SPRU'S RM Phillips Professor in the Economics of Innovation, Mariana Mazzucato, will today, 10 June, give two keynote speeches in Vienna to key policymakers, including President Fischer, government ministers and mayors from across Austria, on the role of the state in driving innovation.
In Austria as in much of Europe, public funding for science and research activities is under pressure, with some arguing for a focus on mobilizing private money for research and innovation. In additional, local agencies aimed at fostering regional development, innovation and cultural vibrancy, are also under immense stress—aiming to run budget surpluses instead of mild deficits.
Prof Mazzucato has been invited to speak at two large and highly publicized events. One is a special event organised jointly by the Austrian Ministry of Transport, Innovation and Technology and the Austrian Academy of Sciences, bringing together the two coalition parties and the highest representatives of applied research; Minister for Transport, Innovation & Technology, Alois Stöger, and that of the scientific community; Professor Anton Zeilinger, President of the Austrian Academy of Sciences.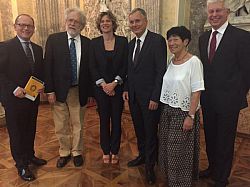 Professor Mazzucato will be introduced by Minster Stöger, Professor Zeilinger and Professor Helga Nowotny, former President of the European Research Council who recently delivered SPRU's 2015 Marie Jahoda lecture. Her talk, entitled 'The state and innovation: a different narrative', will be followed by a discussion between Professor Anton Zeilinger and Klaus Pseiner, CEO of the Austrian Research Promotion Agency which funds applied research.
Earlier in the day, Professor Mazzucato delivered a keynote lecture on 'Mission-Oriented Public Organisations: sharing the risks and the rewards' at the Austrian Association of Towns and Cities. The event had an audience of 1,000 people including President Heinz Fischer and Minister Josef Ostermayer, who both spoke before Professor Mazzucato, plus 250 mayors from the larger cities and towns in Austria.
In the Austrian context - where there is a coalition government between the Social Democrats and the conservative People's Party with split responsibilities for research between the two parties – Professor Mazzucato will make the case for the importance of state investment in innovation as the key to long-term economic growth.
Prof Mariana Mazzucato said: 'The popular narrative dictates that the lumbering, bureaucratic state should get out of the way so that the dynamic, private sector can create jobs and growth. But this is a myth. The truth is that in countries around the world it is the public sector—through a decentralized network of local and national institutions, organisations and agencies-- that have often operated as the dynamic, entrepreneurial engine of growth, creating and shaping new markets, not only 'fixing' them. Indeed, there is evidence that the private sector only invests in innovation after the state has taken on the greatest risk and uncertainty.
Rather than continuing with the ideology that says to cut back and let business operate, we must better learn from this history, and build the kinds of public institutions that in the future can direct investments in mission oriented strategic ways, accepting the risk involved, and also share in the rewards with private sector collaborators. I hope my talk today will foster a new discussion in Austria which will allow local and national governments to build partnerships that can lead to smarter, more sustainable, and more inclusive economic growth'.
Professor Mazzucato's book, Das Kapital des Staates, is published in German by Kunstmann.
See also:
Der Standard - A plea for the state as an entrepreneur
Der Standard - Economist: "If US wants to develop the Internet, they do it"