Professor Mariana Mazzucato has been awarded €250,000 as part of a collaborative project of over €3.6m, involving a large number of universities and organisation (see below). The DOLFINS research project aims to improve the link between long run 'inclusive' growth and the structure of the financial system.
After five years of financial crisis, with the Eurozone debt crisis far from resolved and bank scandals continuing to occur, we still do not have satisfactory policies for dealing with the default of large banks let alone banking networks across national borders. In addition, the current global financial crisis has put pay to the transition to more sustainable development.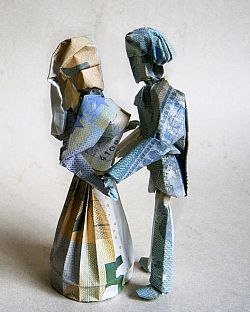 With funding from the EU's Horizon 2020 initiative, 'DOLFINS- Distributed Global Financial Systems for Society' is a cross-institution partnership coordinated by Prof. Stefano Basttiston at the University of Zurich, which aims to address the global challenge of improving the financial system to better serve society by placing scientific evidence and citizens participation at the centre of the policy process in finance.
Based on the premise that financial stability and economic sustainability should go together, the project focuses on two crucial and interconnected policy areas:
Systemic risk and how to achieve financial stability
How to facilitate the long-term investments required by the transition to a more sustainable, more innovative, less unequal and greener EU economy.
The research will address two kinds of actors that cut across these two policy areas of systemic risk and sustainable investments: (1) financial networks, (i.e. banking sector, insurance and shadow banking) as they are at the epicenter of the crisis but also potential providers of funding; and (2) pension funds, because population ageing in many countries may lead to a global pension crisis in the future, while instead pensions funds could be a source of sustainable investments.
The project aims to deliver quantitative tools to evaluate policies, with the aim of curtailing systemic risk and to fostering sustainable investment and to provide a better understanding of credit, risk and sustainable investments in an interconnected world.
However, the project will go beyond policy evaluation to investigate how to engage citizens in the early stage of the policy making process in order to better shape policies in the public interest. Currently, the policy making process tends to leave out, among the stakeholders, those most hurt by the policies. Worse, citizens themselves, disillusioned about their ability to have any say in the policy process and, more in general, about politics, have little incentive to get informed and to actively participate.
Through active collaboration with the Young Foundation and Finance Watch, and an emphasis on 'social innovation' in finance, the project will look at how to help citizens to coordinate their actions in order to have a stronger voice on how their own bank and pension savings are managed, in particular to make investments more aligned with citizens' societal values and with general societal goals. In addition, using new computational methods, including agent based modeling, the project will provide new kinds of science-based support for policy-making in the face of complex challenges in an interconnected world.
Poorly designed, or biased policies are not only economically inefficient and socially unfair, but eventually jeopardize stability and prevent the transition to a more sustainable economy: the "price of inequality" is very high. Furthermore, the global financial crisis and the subsequent EU crisis have revealed the tension between phenomena that occur at a global scale (e.g. corporate interests and economic imbalances among countries), and our ability to act, which is typically limited at a national level. The survival and success of the political project of building a European Union thus requires first of all to renew its policy processes by offering more sound evidence for the choices made and by involving citizens early on in the process, making sure that the public interest is the driver of the policies rather than the interest of specific groups. This project aims to achieve crucial advances in reshaping the policy process to overcome the financial and political crisis faced by the EU.
Professor Mazzucato says: "After having personally coordinated a three year European Commission project on Finance Innovation and Growth (FINNOV) I'm thrilled to continue this line of work through a new collaborative European project that seeks to bring finance back to serving the real economy instead of destroying it. Dolfins is also linked to another Horizon 2020 project we have been awarded called ISIG: Innovation-fuelled, Sustainable, Inclusive Growth -- which we will announce shortly."
DOLFINS is a collaborative project of over €3.6m involving the following universities and organisations: Universitaet Zuerich (coordinator); Scuola IMT Lucca; SPRU/University of Sussex, GCF – Global Climate Forum; Le Centre Nationale de la Reherche Scientifique; Institut Jozef Stefan; London Centre for Mathematical Science; Scuola Superiore di Studi Universitari e di Perfezionamento Sant'Anna; Fondation Nationale des Sciences Poitiques, Institute for Advanced Sustainability Studies, Universidad de Zaragoza, The Young Foundation, Sigma Orionis, and Finance Watch.
Further information
For more information, visit the DOLFINS project website.
* Photo: Daniel Chang