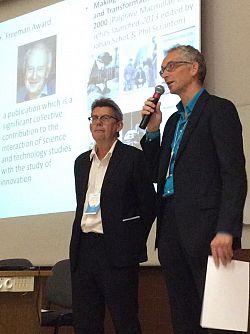 The 'Making Europe' project, directed by SPRU's Director Professor Johan Schot, has been awarded the prestigious Freeman prize by the organising council of the Biennial Conference of the European Association for the study of Science and Technology (EASST 2014).
This is a particularly significant prize for Professor Schot and for SPRU, as it is awarded in honour of our founder, Professor Chris Freeman, a pioneer of Science, Technology and Innovation studies. The award is given in recognition of a publication, which reflects a significant collective contribution to the interaction of science and technology studies within the study of innovation.
'Making Europe' is a fitting recipient of this prize. This six volume book series, which investigates the question of 'Who built Europe?', is just one product out of an ambitious collaboration of almost 300 scholars through the 'Tensions of Europe' project.
Edited by Professor Schot and Phil Scranton, the 'Making Europe' book series charts a new transnational history of Europe through the lens of technology by looking specifically at the people, ideas, goods and technologies that spread between countries— and between continents.
Professor Schot is also co-author of one of the books in the series, with Wolfram Kaiser 'Writing the Rules for Europe: Experts, Cartels, and International Organizations'. This book focused on the role of experts in international decision-making and unravels the technocratic origins of the European integration process and the dilemmas this poses for democracy.
On receiving the prize, Professor Schot said: "This means so much to me because it is an award for pioneering collaborative work, which is bringing out the best in an excellent group of scholars.
For me and my co-editor of the series, Phil Scranton, it is a great pleasure to work with such innovative and creative people. It is particular special as incoming Director of SPRU because of the connection to Chris Freeman, our founder. I would like to thank the EASST Council and community for this very special honour."
Making Europe presents and interprets a history that is still in the making. It shows that technology will continue to play a central role in defining Europe; that the politics of Europe is the politics of technology as much as anything else.
EASTT presents three awards at its biennial conference, all in recognition of collaborative and interactive achievements. The citations from the awards are published on the EASTT website.