There is a widespread view of the State as a large bureaucratic organization that can at best facilitate the creative innovation that is developed in the dynamic private sector. This view is associated with an economic theory that sees government intervention as only justified in cases of 'market failures'.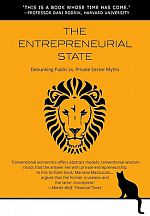 The Entrepreneurial State, led by Professor Mariana Mazzucato, investigates whether such view and theory of the State are supported by evidence. It explores the actual role of governments in the innovation process, and develops a careful critique of the market failure view of government intervention.
The key result is that the few regions in the world that have achieved 'smart' innovation led growth have been driven by a 'mission oriented' well funded public sector, able and willing to directly invest along the entire innovation chain. Not only in areas of 'public goods' (the typical market failure) and not only as a 'facilitator'. Indeed, the State (through its decentralized network of agencies) has been a direct investor and risk-taker, making things happen that otherwise would not have: including every technology that makes the iphone so 'smart'.
Methodology

Findings

Impact and Influence

Partners and links

Contact