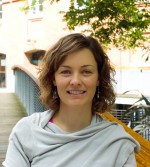 Dr
Sevasti-Melissa Nolas
Biography
I joined the University of Sussex in September 2011 as a Lecturer in Social Work. My background is in social psychology and I have carried out research in the areas of children's welfare (broadly defined), children's social policy, public and everyday lives.
I have worked on a number of local and national evaluation of government and community programmes for youth development and inclusion, child and adolescent mental health promotion, and for children and young people who have experienced domestic violence.
I am interested in how children's agency is constructed and performed within childhood and youth spaces, and how children exercise, or otherwise, that agency by, for example, giving voice to issues that concern them, by participating in decisions that affect them, and/or resisting or subverting porgramme messages (and many other ways too!).
Most esearchly I have begun to focus on children's experiences outside institutions and on children's everyday lives. Building on my interests in participation, agency and publics my current research programme focuses on publics formations and collective action in global cities as these relate to childhood, youth and family life. In 2014 I was awarded a European Resarch Council Starting Grant for a cross-national and qualitative longitudinal study on children's participation in public life and the emergence of an orientation towards social action in childhood. You can read about the Connnectors Study here.
Community and Business
I am currently Public Engagement Ambassador in ESW http://www.publicengagement.ac.uk/how-we-help/ambassadors/dr-sevasti-melissa-nolas