Social Work faculty, students & service users contribute to key published texts on coping with the pandemic
By: Heather Stanley
Last updated: Tuesday, 25 January 2022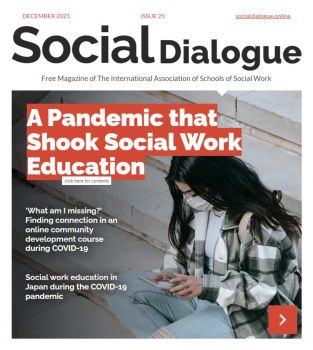 Faculty, students and service users affiliated with the Department of Social Work & Social Care at the University of Sussex have actively contributed social work education experiences during the COVID-19 pandemic to the international social work community.
Four separate peer-reviewed articles from the Department's experts-by-experiences (service users and carers), students and academics were published in December 2021 in the latest International Association of Schools of Social Work's Social Dialogue, Issue 25: The Pandemic that Shook Social Work Education...
Vaughan, Imogen, Vaughan, Alex and Chen, Henglien Lisa (2021): 'Teaching on Zoom:
The expert by experience partner's experience'. Social Dialogue
Chen, Henglien Lisa, Farinha, Ana Ferreira, Mcveigh, Tara, Giorgi, Nadia, Plumstead, Jessica, Ruth, Jodie, Cotter, Aoife, Goldsmith, Victoria, Fahey, Kayleigh and Ilicic, Anna (2021): 'The challenges and opportunities of sustaining professional development during the COVID pandemic: The experiences of student social workers of placement in England. Social Dialogue
Saddler, Paigs, Lucena, Melisa Lopez, Ospina, Erika Melisa Gutierrez Ospina, Capitan, Iride Sanchez, Woods, Catherine, Udeh, Kelechi (2021): 'Emerging from behind the scenes: Spotlighting the voices of six international student-researchers'. Social Dialogue
Dr Henglien Lisa Chen (Senior Lecturer in Social Work) was Co-editor of the special issue and has personally invested significant time into the recruitment and nurturing of experts-by-experience and students which resulted in the published articles.
Not only do the articles demonstrate the Department's strong engagement with the international community, but also reflect how service users, staff and students have all experienced the challenges of managing work and life whilst sustaining their wellbeing during the pandemic. The articles highlight a number of innovative approaches to social work education and research engagement in difficult times.
Head of the Department of Social Work & Social Care, Dr David Orr, said:
"Our students have always spoken out about the state of social work, and it is very encouraging to see this tradition continuing and reaching an international readership in the pages of Social Dialogue.
The three articles showcase the undoubted challenges, the achievements, and areas to reflect on as we consider what our community has learned from the Covid-19 pandemic. But what they highlight most of all is the value of collaboration. The perspectives gathered here from our students, researchers and experts by experience show how we are exploring together how our community of learning might find new ways of working, supporting and learning from each other."