Lecture and Round Table
Women and the Culture of Connoisseurship
1-2 July 2015
University of Sussex
A two-day research forum organised by Dr Meaghan Clarke and Dr Francesco Ventrella and funded by the Leverhulme Trust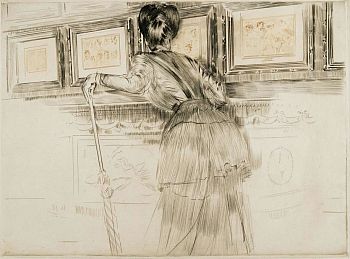 During the nineteenth century, a number of women connoisseurs were actively involved in shaping museum catalogues and collecting initiatives. Indeed, women's involvement with the culture of connoisseurship was never marginal: they experimented with art historical writing in a variety of formats and genres such as travel writings, gallery catalogues and guides, exhibition reviews. This forum will ask how we might consider and assess the role of such writings in the art history and connoisseurship of this period.
Connoisseurship was both an experimental and research practice relying widely on the collaboration of collectors, dealers, translators, editors, archivists and assistants many of whom were women. We also want to ask how we can bring this 'ancillary' work back into the social history of connoisseurship: if we acknowledge the relative invisibility of women connoisseurs 'working behind the scenes', we perhaps need to turn this perspective upside down, and ask why the history of art history could not account for the contribution of women to connoisseurship.
In order to answer these preliminary questions – and produce new ones – we have selected scholars from around the globe to take part in a workshop at the University of Sussex on 1-2 July 2015.
Forum Participants and Topics:
Hilary Fraser (Birkbeck, University of London) – Public Lecture, 1 July
Meaghan Clarke(University of Sussex) – Christiana Herringham
Carly Collier (Royal Collections) -- Maria Collcott and Queen Victoria
Ilaria della Monica (I Tatti, University of Harvard) – Mary Berenson
Flaminia Gennari (Syracuse University) – Belle da Costa Green
Machtelt Israëls (Amsterdam University) – Mary Berenson
Alexandra Loske (Brighton Royal Pavilion and Museums) – Mary Philadelphia Merrifield
Caroline Palmer (Ashmolean Museum) – Anna Jameson and Elizabeth Eastlake
Dietrich Seybold (Basel) – Louise M. Richter
Francesco Ventrella (University of Sussex) – Constance Jocelyn Ffoulkes and Vernon Lee