Co-Edited by Ben Burbridge, Mariama Attah and Celia Davies
Photoworks/Brighton Photo Biennial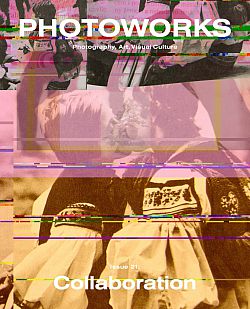 Published to coincide with the 2014 Brighton Photo Biennial, Photoworks 21 examines collaborative modes of photographic production and reception. This issue showcases work produced for BPB14, much of it previously unseen and un-published, and provides an inter-disciplinary look at theme of collaboration with voices from anthropology, design, science, politics, critical theory, new media, photographic history and fine-art. The publication is built around an extensive roundtable discussion on communities, collectives and collaboration with Ben Burbridge, Matt Daw, Andrew Dewdney, Eugenie Dolberg, Anthony Luvera and Noni Stacey. Contributors include: Jason Evans, Max Kozloff, Christopher Pinney, Aaron Schuman, TJ Demos, Roger Hargreaves and Federica Chiocchetti, Caroline Lucas, Nick Waplington, Brian Dillon, Nick Galvin, Katrina Sluis, and Jennifer Tucker.
https://photoworks.org.uk/project-news/issue-21-collaboration/