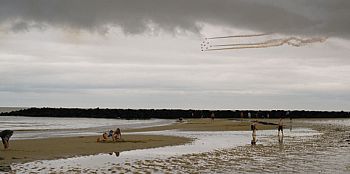 EXHIBITION
Melanie Friend - The Home Front
14 November 2014 - 31 January 2015
Art & Design Gallery, University of Hertfordshire
From the distant silhouette of a Lancaster bomber glimpsed over a British seaside resort, to the hidden world of global arms trade fairs, The Home Front explores links between militarism, marketing and entertainment.
Melanie Friend presents three related photographic series in this major new exhibition that together explore the civilian experience of war.
The first series depicts expansive beachscapes with holiday-makers looking up at air shows above; the beach temporarily militarised. The second group of photographs reveal the on-ground attractions of air shows, frequently billed as a fun day out for all the family. In the third series Friend offers a rare glimpse at the environments of international arms fairs and air show trade days, usually off-limits to the general public.
Visit the gallery website for more information.