Wednesday 15 April, 16:30-18.00
Lecture Theatre Arts A1, University of Sussex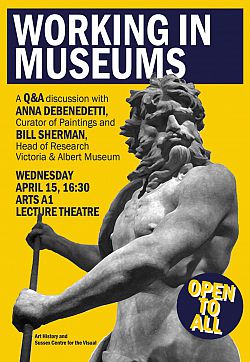 More people than ever want to work in museums, yet it is increasingly difficult to enter this professional world. In this Q&A discussion, two leading experts from the Victoria & Albert Museum,
Ana Debenedetti (
Curator of Paintings
) and Bill Sherman (
Head of Research
)
will share their different perspectives on what it is like to work within a museum today. They will talk about their own career paths, their experiences of appointing people to museum jobs, opportunities for research collaborations
with
museums, and will answer questions about working in this field.
This event is free and open to all.
Organized in collaboration with the Art History Department.