Thursday 2 February 2017, 17.00-18.30
Arts A103, University of Sussex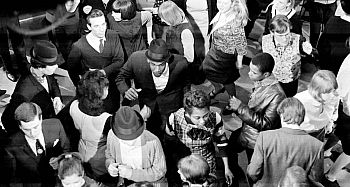 This lecture explores the complex relationships of modernist clothing, jazz, popular music and new pictorial styles in British art from the end of the mid-1950's until the late 1960's. It draws on Crow's monograph, The Long March of Pop (Yale, 2015).
Tom Crow was Professor of Art History at Sussex University during the 1990's. He now teaches at The Institute of Fine Art at New York University. He is the author of numerous books on modern art and popular culture, including The Rise of the Sixties: American and European Art in the Era of Dissent (Harry N. Abrams, 1996) and Modern Art in the Common Culture (Yale University Press, 1996). Prof Crow has just completed a series of lectures at the National Gallery, London, co-organised by the Yale Centre for British Art.
Image: Ready Steady Go dancers in 1964