18.00-19.30 Thursday 14 April
Arts A1, University of Sussex

This event is free. All welcome. It is not possible to reserve places - arrive early to avoid disappointment.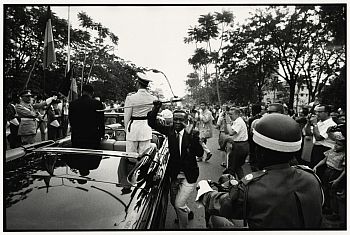 This talk will focus on research that informed Sealy's critically acclaimed 2015 book and exhibition, HUMAN RIGHTS, HUMAN WRONGS.
Using the 1948 Universal Declaration of Human Rights as a point of departure, HUMAN RIGHTS HUMAN WRONGS examined whether images of political struggle, suffering and victims of violence work for or against humanitarian objectives, especially when considering questions of race, representation, ethical responsibility and the cultural position of the photographer.
Featuring more than All 300 original prints from the prestigious Black Star Collection, HUMAN RIGHTS HUMAN WRONGS began circa 1945 and included photographs of well-known Civil Rights Movement events such as the Selma to Montgomery March and Martin Luther King's "I Have a Dream" speech. The exhibition also featured images of the independence movements in many African countries, a selection of portraits of Nobel Peace Prize winners, and photographs, magazines and books which documented protests, war and conflict from the Vietnam War to the Rwandan Genocide in 1994.
The exhibition was intended to be a catalytic enquiry into photojournalistic practice, addressing the legacy of how photographs have historically functioned in raising awareness of international conflict. It critically considered the cultural meaning these photographs produce, how inhumane acts are rendered photographically for us to look at, and the visual legacy they leave behind. We see the wide dissemination of photographic images of humankind in abject, euphoric or violently explicit conditions, but how do these images assist us in understanding the case for civil and human rights?
Image Caption: Robert Lebeck, Leopoldville [Young man steals the sword of King Baudouin I, during procession with newly appointed President Kasavubu], Leopoldville, Republic of the Congo (now Democratic Republic of the Congo), June 30, 1960, gelatin silver print, RIC.2012.0111. Collection of the Ryerson Image Centre, Gift of Robert Zebeck