Wednesday 29 October, 18.30-20.30
The Globe, Middle Street, Brighton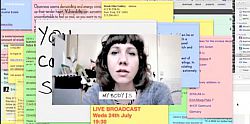 Artist Erica Scourti will discuss her interest in the mediation of personal and collective experience within the networked regime of contemporary culture. Scourtti has shown internationally at Kunstverein Munich, Museum of Contemporary Art, Athens, Museo Reine Sofia, Kunstmuseum Bonn and Jeu de Paume Museum, as well as festivals such as Recontres Internationales and Impakt as well as extensively in the UK, most recently at Banner Repeater, Grand Union, New Bridge Project, Enclave, and ICA. Her new commission—'So Like You'—reimagines her own life through similar-looking photographs, sourced using Google's 'Search by Image' function and is being shown, simulataneously at The Photographers' Gallery London and as part of Brighton Photo Biennial.
Organised in collaboration with Brighton Photo Biennial