Tuesday 4 November, 16.30-18.30
Arts A108, University of Sussex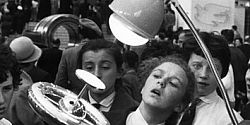 Ghosts in the Machine or Images on the Run? Henri Cartier-Bresson's Corporate Humanism & the Mobility of Images
'Sarah James…takes the analysis of photography as a social medium to a new historical insight.'
-Blake Stimson, author of The Pivot of the World: Photography and its Nation
Sarah James explores Henri Cartier-Bresson's 1968 exhibition Man and Machine,
contextualised in relation to contemporary exhibitions, photobooks and magazines in order to grapple with debates around decolonisation, neo-colonialism, capitalism's cultural imperialism, globalisation, and the utopian/dystopian dimensions of the age of computing. Focussing on the circulation of Cartier-Bresson's images in this period, James will consider how we might begin to reframe our discussion of photography's production of politics by thinking of an image's reactionary and radical meanings simultaneously.
Sarah James is Lecturer at the History of Art Department, University College London. Her book Common Ground: German Photographic Cultures Across the Iron Curtain was published by Yale University Press in 2013. Sarah has published numerous articles, chapters and catalogue essays on photography and art.
Organised in collaboration with Sussex Art History