Wednesday 12 November, 16.00-18.00
Fulton A, University of Sussex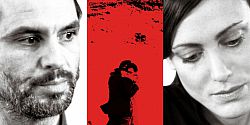 Screening followed by a Q&A with the Director and Writer, chaired by Nicolas Royle.
Love in the Post (2014, 80 minutes) is a feature film inspired by the book The Post Card by Jacques Derrida. Like the book, the film plays with fact and fiction, weaving together the stories of a scholar of literature and a film director, alongside insights from critics and philosophers.
The film features a never before seen interview with Derrida, alongside contributions from Geoff Bennington, Ellen Burt, Catherine Malabou, J. Hillis Miller and Sam Weber.
Funded by the Arts and Humanities Research Council, University of Bedfordshire, Kingston University and supported by the University of Sussex.
For more information see http://loveinthepost.co.uk