Wednesday 27 June, 19.30
Beirut Art Centre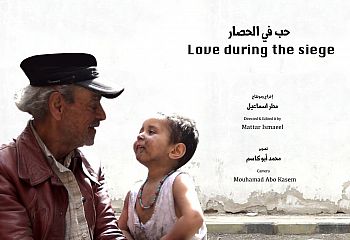 How can we then suppose that one man can tell the truth? Does he believe that in writing this book he will lead others to tell the truth also? What makes it possible for us as human beings to face the facts, to manufacture new ones, or to ignore some and focus on others?... None of these things is within the capacity of a solitary individual to produce; and none is possible without some sense of communal or collective commitment to assign them a more than personal validity.
Edward Said (1984)
Narrating the impact of catastrophe is both an impossibility and an absolute necessity. Seven years into the war in Syria, this fifth forum looks to Syrian filmmakers and the stories of individuals, all of whom occupy a different place in the conflict; a fighter, a family under siege, and refugees in exile. This forum questions methods of narrating the war in Syria through the intimacy of the individual, in both their own words and in the representation of lived experiences.
With special thanks to Rania Stephan and Bidayyat.
Part 1: By invitation 30m
Ghiath Al Haddad and Saeed Al Batal – Front Line
Mattar Ismaeel – Love During the Siege
Break
Part 2: By invitation 45m
Yasser Kassab – On the Edge of Life
Frontline and Love during the siege are produced by Bidayyat. On the edge of life recieved a grant from Bidayyat. http://bidayyat.org/
The event is part of Immaterial Collection II: Forum, which brings together video works by the acclaimed artists in Beirut Art Center's Media Library with new works selected from our open call to artists from the MENA region, creating forums for conversation between two unique collections of artworks.
Over 100 established and early career artists submitted work, inspiring connections with works in our Media Library. Selected videos from each will be screened in a series of four distinct forums to stimulate conversation and debate over drinks on the terrace afterwards. A fifth forum of video works, From Syria, considers some of the ways in which the continuing war is being discussed and represented through video.
This second installment of Immaterial Collection is curated by BAC's visiting researcher Joy Stacey.
Visit the Beirut Art Centre website for more information: http://www.beirutartcenter.org/en/news/immaterial-collection-ii-1