17.00, Saturday 18 November 2017
Attenborough Centre for the Creative Arts
£5.00/£3.00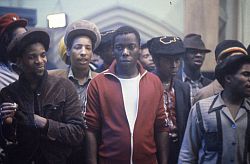 Babylon (1980) focuses on of young Black South Londoners following a sound system. Revolutionary on the way it authentically portrayed young Black British lives, the film is infused with the spirit of resistance as the protagonists kick against police brutality, racism and lack of job opportunities.
Significant in Black British history, the soundtrack features music from Denis Bovell and Aswad.
Babylon will be introduced by Kelly Foster, public historian and specialist on Black British music.
A round table with Kelly Foster, Professor Paul Goodwin (Chelsea College of Arts) and Mykaell Riley (Senior Lecturer at the University of Westminster and former lead singer with Steel Pulse) will follow the screening.
Part of Cine City 2017. Organised by Professor Martin Evans for the Centre for Photography and Visual Culture and the Resistance Studies Network, University of Sussex.