Wednesday 21 September, 12.00-15.00 & 16.30-17.00
Humanities Lab, University of Sussex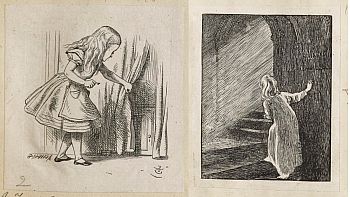 Alice to Alice features 200 images from The Dalziel Archive, an unparalleled collection of around 54,000 wood engravers' proofs held in the British Museum. The exhibition, in ten thematic sections, brings the celebrated wood-engraved illustrations from Alice's Adventures in Wonderland (1865) and Through the Looking-Glass (1871) into dialogue with other work made by the Dalziels in the years bookended by these publications. Illustrations of literature by Dickens and Christina Rossetti feature alongside more unusual images of Victorian design and architecture; medical and veterinary art; and wood-engraved interpretations of radical photography by Julia Margaret Cameron.
Curated by Bethan Stevens; curatorial assistance and web design by George Mind.
The exhibition will be on view in the Sussex Humanities Lab on Wednesday 21st September: between 12pm-3pm and 4.30pm-5pm.
At 5pm in Silverstone Lecture Theatre there will be an introduction and spotlight thoughts on the exhibition (from the organisers and guests including Hannah Field, Nicholas Royle, Isabel Seligman and Lindsay Smith).
This will be followed by a drinks reception and private view in the Sussex Humanities Lab.
This exhibition comes out of an AHRC-funded project to digitise, research, and creatively respond to the Dalziels. The project is led by Bethan Stevens and is a partnership between the University of Sussex and the British Museum, with photography by Sylph Editions.
As spaces are limited, please reserve at:
https://www.eventbrite.co.uk/e/virtual-exhibition-tour-alice-to-alice-dalziel-1865-1871-tickets-27348294485