SCSR supports MA courses offered at Sussex University that focus on conflict and security: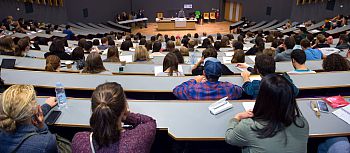 SCSR's programme of events includes an annual lecture given by a leading scholar of conflict or security issues; monthly New Security Challenges lectures given by policymakers and practitioners; fortnightly research cafes to support development of research projects and collaborations; and periodic guest lectures and seminars. For more information see our past events and forthcoming events pages.
In addition SCSR supports the annual International Security MA trip to Brussels where students are able to meet with representatives from NATO and the European External Action Service.
SCSR is keen to encourage the membership of current Sussex PhD students. We are working closely with our PhD representative, Chosen Udorji, to cultivate a vibrant PhD research community, providing opportunities for cross-disciplinary collaboration and feedback. To become a PhD member, or to discuss ways of becoming more involved, contact c.udorji@sussex.ac.uk or scsr@sussex.ac.uk.
The centre also offers bespoke training to individuals, groups and organisations such as the FCO. Topics of past courses have included preventing sexual and gendered violence in conflict situations, for example. To speak to us about your training requirements contact scsr@sussex.ac.uk.