Responsibility for Colonial Injustice
Wednesday 1 May 17:00 until 19:00
Fulton B Lecture Theatre
Speaker: Professor Catherine Lu McGill University
Part of the series: CAIT Spring Term Programme 2019
Catherine Lu will discuss her research monograph Justice and Reconciliation in World Politics (Cambridge University Press, 2017), which was awarded, jointly with Sean Molloy (University of Kent), the 2018 Sussex International Theory Prize. This event is co-sponsored by the Sussex Centre for Conflict and Security Studies (SCSR), the Centre for Colonial and Post-Colonial Studies (CCPS), and the Sussex Rights and Justice Centre.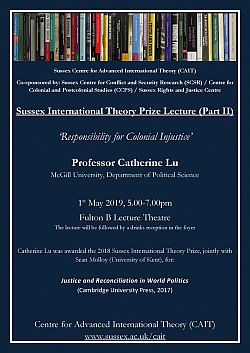 "How should we think about the responsibility of contemporary agents – as individuals, peoples, or states – for colonial injustices? Theoretical and practical treatments of responsibility for redressing major political injustice have conventionally focused on interactional models of individual, corporate, or joint liability for wrongdoing. This focus, however, misses contemporary agents' responsibility for reproducing the structural injustices of modern colonial order, marked by interstate and intrastate hierarchies of race, class, gender and indigeneity. Such structural injustices shape in morally objectionable ways the social positions, identities, agency, roles, aspirations, and potential and actual achievements of persons and groups. Taking colonialism as structural injustice seriously leads to an acknowledgement that colonial injustices have not been surpassed, and that colonialism as a wrong affected larger categories of persons than those who could claim to be individual victims of egregious human rights violations. Responsibility for colonial injustice calls for a more demanding set of strategies of transformative redress beyond punishment and reparations, to include decolonization, decentering, and disalienation."
Biography
Catherine Lu is Professor of Political Science at McGill University, and Coordinator of the Research Group on Global Justice of the Yan P. Lin Centre for the Study of Freedom and Global Orders in the Ancient and Modern Worlds at McGill. She received her PhD from the University of Toronto in 2000. Her research interests intersect Political Theory and International Relations, focusing on critical and normative studies in international political theory on cosmopolitanism, global justice, human rights, intervention, colonial international order, structural injustice, alienation, and reconciliation. She is the author of Justice and Reconciliation in World Politics (Cambridge University Press, 2017), which won the 2018 Robert L. Jervis and Paul W. Schroeder Best Book Award from the International History and Politics Section of the American Political Science Association, the 2018 Yale H. Ferguson Prize from the International Studies Association - Northeast Region, and was co-winner of the 2018 Sussex International Theory Prize (UK). Her first book, Just and Unjust Interventions in World Politics: Public and Private (Palgrave Macmillan, 2006), was also shortlisted for the C.B. Macpherson Prize by the Canadian Political Science Association. In 2018, she received the Friedrich Wilhelm Bessel Research Award from the Alexander von Humboldt Foundation in Germany, and she has received research fellowships from the School of Philosophy, Research School of Social Sciences, Australian National University (2013), the Alexander von Humboldt Foundation (2010-11), and the Edmond J. Safra Center for Ethics at Harvard University (2004-5).
There will be a wine reception after the lecture in the foyer of the Fulton B Lecture Theatre.
Download the poster: Responsibility for Colonial Injustice [PDF 339.62KB]
---
By: Martin Wingfield
Last updated: Thursday, 4 April 2019