Sussex Centre for Cultural Studies, UEL Sociology, Sussex Humanities Lab, and Race, Ethnicity and Postcolonial Studies (REPS) Seminars presents:
WALKING BASS
Friday, February 5, 2016 from 6:00pm to 8:00pm
Sussex Humanities Lab, SILVERSTONE SB211, Arts Road, Falmer. BN1 9RG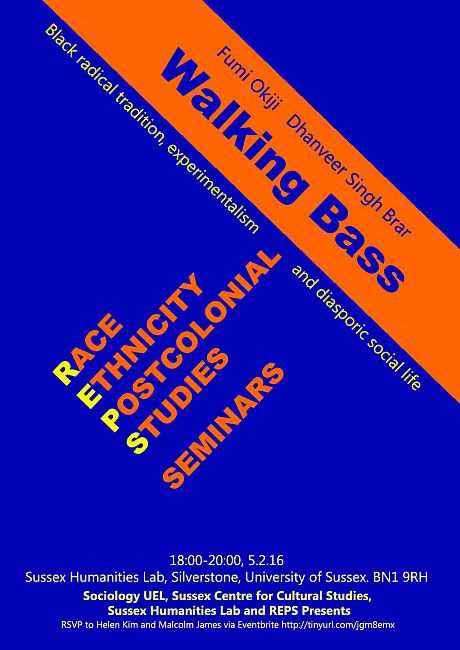 Dear All
You're invited to join us for the second REPS seminar of the year.
In this REPS seminar Fumi Okiji & Dhanveer Singh Brar will be delivering a lecture-performance based on their shared commitment to the black radical tradition, experimentalism and diasporic social life. Whilst their lecture-performance does not have a pre-determined end point, they will be moving through a variety of audio-visual materials and reference points including Charles Mingus, Actress, Walter Benjamin, Nathaniel Mackey, David Marriott, Bryan Wagner, Ella Fitzgerald, Zora Neale Hurston, William Pope L, New Orleans Second Line, Cedric Robinson, Zina Saro-Wiwa, Topsy Washington, John Coltrane, Fred Moten, Angel-Ho and Chino Amobi. All are welcome to come and join and add to what hopefully will be a joyful - but could be an unbearable – noise.
Bios
Fumi Okiji's research focuses on the black radical tradition. She is particularly interested in how expressive work can provide alternative forms of knowledge and models of progressive social organisation. Okiji is currently working on a proposal for a research project, How to Love Black Things: Expressive Work as Black Epistemology, which contributes to the debate concerning the nature of the intramural social life of black people. Recently awarded a doctorate from Royal Holloway, University of London, she wrote a dissertation arguing that jazz, in its embodiment of seemingly contradictory positions (on one hand, fostering human distinction, and on the other, embracing community), can be shown to provide an important, though precarious, model of what Theodor Adorno calls 'reconciliation.' Okiji has recently completed a manuscript: Think All, Focus One: Jazz, Adorno and the Critical Potential of African American Expressive Form, based on this study. As a performer and maker of sound works, she is committed to exploring ways to develop her academic work to be better equipped and more empathetic in its engagement with art and expression.
Dhanveer Singh Brar is a theorist of black studies, in its intersections with critical theory and cultural studies. The research he undertakes encompasses black diasporic sonic culture from the mid-twentieth century to the present, the history of the black radical tradition and the politics of black critical thought. He has published in the journal Popular Music and has an article forthcoming in Social Text. Currently Dhanveer is writing a book on black electronic dance music entitled Teklife, Ghettoville, FWD>>: The Sonic Ecology of Blackness in the Early Twenty-First Century. He lectures in the Department of Sociology and Criminology at Kingston University.
Come join us for a timely and lively discussion (and a drinks reception).
Hope to see you all there.
Best wishes
Malcolm James and Helen Kim
The event is free but registration is required. Please register here https://www.eventbrite.com/e/walking-bass-black-radical-tradition-experimentalism-diasporic-life-tickets-20700312191