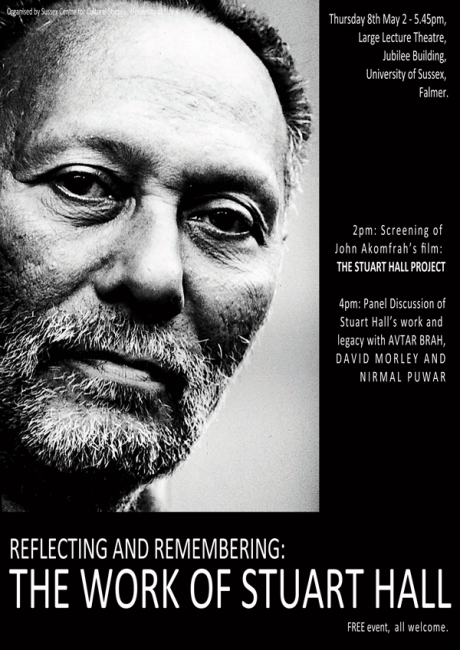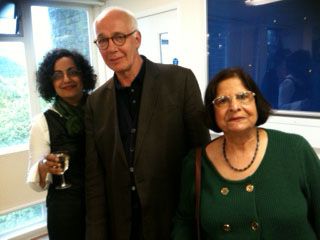 Avtar Brah, David Morley and Nirmal Puwar who spoke at the SCCS event in honour and memory of Stuart Hall on May 8th 2014.
This SCCS event took place in the afternoon of on Thursday 8th May 2014, and included a screening of John Akomfrah's film: THE STUART HALL PROJECT followed by a panel discussion of Stuart Hall's work and legacy with AVTAR BRAH, DAVID MORLEY and NIRMAL PUWAR.
STUART HALL, the renowned sociologist and cultural theorist, died in February 2014. He was Director of the Centre for Contemporary Cultural Studies at the University of Birmingham and played a leading role in the development of the field of media and cultural studies. Later, as Professor of Sociology at the Open University he reached a wider public in his broadcasts and media appearances, discussing the inequalities of race and class. His analysis of the Thatcher years in Britain has never been surpassed, and his comments on the current neoliberal conjuncture were incisive. He was a public intellectual in every sense, and as such stands out as a leading thinker in post-war Britain. For these reasons the Sussex Centre for Cultural Studies organised an event in his memory and honour. The event attracted a large audience of Sussex students, Faculty and members of the public who were clearly moved and engaged by the film and the speakers' comments. Prof Brah spoke on Hall's intellectual trajectory and relationship with Marxism. Prof Morley discussed Hall's contribution to media and cultural studies including his seminal piece 'Encoding and Decoding in the Television Discourse' (1973) which Morley argued had been misrepresented by media studies scholars. Dr Puwar discussed the significance of Stuart Hall as a public intellectual drawing on a piece she published on this topic in Open Democracy after his death. The discussion focused on Hall's role as a politically committed public intellectual and how this can inspire activists and academics in neoliberal times.
John Akomfrah, the film-maker was born in Ghana in 1957. He fled with his family to Britain after a coup in 1966. He graduated from Portsmouth Polytechnic in Sociology in 1982, and with Stuart Hall's encouragement formed the Black Audio Film Collective. Later he co-founded Smoking Dogs Films. His films include: Handsworth Songs (1986); Testament (1988); Who needs a Heart (1991); Seven Songs for Malcolm X (1993); The Last Angel of History (1996); Call of Mist (1998); Speak Like a Child (1998); Riot (1999); The Nine Muses (2010); The Stuart Hall Project (2013).
Avtar Brah is Professor Emerita of Sociology, Birkbeck College, London. Her books include Cartographies of Diaspora: Contesting Identities; Hybridity and Its Discontents: Politics, Science, Culture (edited with Annie Coombes); Thinking Identities: Racism, Ethnicity and Culture and Global Futures: Migration, Environment and Globalization (both edited with Mary Hickman and Mairtin Mac an Ghail). She is the Feminist Review Collective's longest serving member; Feminist Review 100 was inspired by her 1999 article: 'The scent of memory: strangers, our own, others' and included a piece by Stuart Hall: 'Avtar Brah's cartographies: moment, method, meaning'. At this event
David Morley began his career at the Birmingham Centre for Contemporary Cultural Studies, under the direction of Stuart Hall, and is now Professor of Communications, Goldsmiths College, London. He is the author of Everyday TV: Nationwide (with Charlotte Brunsdon) The Nationwide Audience; Family Television; Television, Audiences and Cultural Studies; Spaces of Identity (with Kevin Robins); Stuart Hall: Critical Dialogues in Cultural Studies (co-edited with Kuan Hsing Chen); British Cultural Studies (with Kevin Robins) Home Territories: Media, Mobility and Identity; Media and Cultural Theory (edited with James Curran) and Media, Modernity and Technology: The Geography of the New.
Nirmal Puwar is Senior Lecturer in Sociology, Goldsmiths College, London. She is the author of Space Invaders: race, gender and bodies out of place, and has led several creative collaborative projects, including 'Noise of the Past', a public intervention in war and memory, launched in Coventry Cathedral on the 8th November 2008. She is Director of the Methods lab at Goldsmiths and co-editor with Les Back of Live Methods.