UEL School of Social Sciences and Sussex Centre for Cultural Studies present:
Race, Ethnicity and Postcolonial Studies (REPS) Seminar 1 – grime/rap/racism/prisons
Monday, 7 December 2015 from 18:00 to 21:00
US G.19 - University Square Stratford Building. 1 Salway Road . London E15 1NF GB
(Please note change to room venue)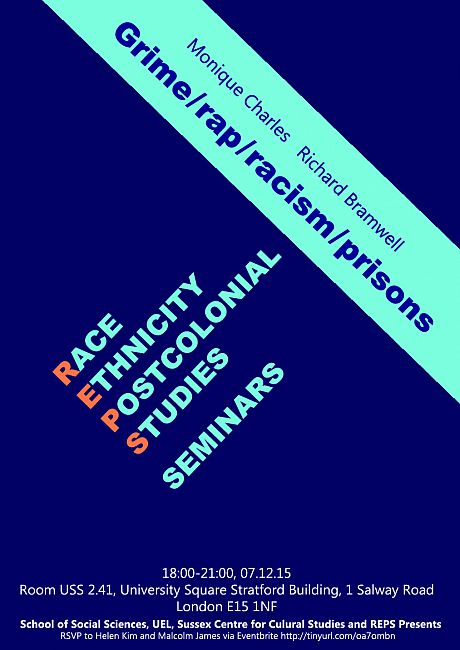 You're invited to join us on our first REPS seminar series of the year (and the very first as a public event).
The event will be at UEL Stratford. We are delighted to have two incredible speakers who will present their current work on the intersections of popular music and race. Our speakers and topics are:
Monique Charles
Monique will explore the social and cultural formation of grime music in relation to values (moral, political and aesthetic), spaces (schools, social media and performance venue), and politics (responses to policing, 696 and dominant discourse/practice).
Richard Bramwell
Richard will be discussing 'institutional racism', the policing of the black body and black culture in high security prison. He will be exploring how black prisoners respond to their conditions of incarceration, in two maximum security prisons, through equality monitoring procedures and rap culture.
Come join us for a timely and lively discussion (and a drinks reception).
Hope to see you all there.
Best wishes
Helen Kim and Malcolm James
The event is free but registration is required. Please register here http://www.eventbrite.co.uk/e/race-ethnicity-and-postcolonial-studies-reps-seminar-1-tickets-7396937439?utm-medium=discovery&utm-campaign=social&utm-content=attendeeshare&utm-source=cp&utm-term=listing