In March 2009 the Centre co-hosted in conjunction with the Brighton and Sussex Sexualities Network [BSSN] a one-day conference on 'Queer Spiritualities' which brought together the eleven researchers that had been working on the 'Queer Spiritual Spaces' project over the year, with research participants from the case studies, as well as invited keynote speakers Prof Stephen Hunt (University of the West of England) and Dr Robert Vanderbeck (University of Leeds).
The project took in a wide scope of religious and spiritual practices and belongings that brought to the conference a diverse range of presentations addressing broader concerns relating to attitudes to non-normative sexualities and Buddhism (Sharon Smith) and Islam (Amna Khalid), sexuality debates within Global Anglicanism (Robert Vanderbeck) as well as more particular interrogations concerning 'Queer Quakers' (Sally R. Munt), spiritualities at Michigan Womyn's Music Festival (Kath Browne) and Sexual Identity amongst New Agers at Findhorn (Liz Dinnie).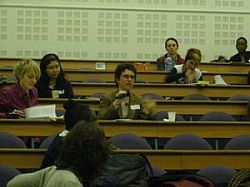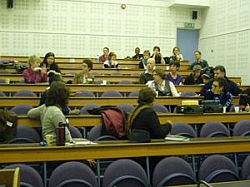 Two further papers focused on queer spiritualities and online cultures (Heather White and Patrick James). Andrew Yip's keynote addressed some overarching critical reflections on the practice of researching sexualities and spiritualities offering a context to the case studies within the project.
Then turning attention to some points of friction in debates about sexuality and the church, Stephen Hunt unpicked 'The Secular Rhetoric and Strategies of the Christian Anti-Gay Lobby'. Conference debate was lively and inclusive. Afterwards, Sally Munt hosted conference participants with a party at her house, ending with a convivial evening.