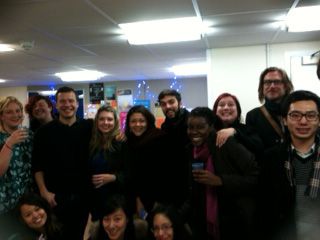 Professor Nicola Mai with MFM MA and PhD students after the screening and discussion of his film 'NORMAL - Real Stories from the Sex Industry' on November 28th, 2013.
In November 2013 in collaboration with the Centre for Life History and Life Writing Research SCCS organised a screening of the documentary film NORMAL - REAL STORIES FROM THE SEX INDUSTRY. The event took place on the evening of Thursday 28 November and attracted an audience of around 40 MA, PhD and undergraduate students, Faculty and members of the public. The Director PROF NICOLA MAI introduced the film and answered questions after the screening.
Prof Mai is an Italian ethnographer and filmmaker who has worked as Professor of Sociology and Migration Studies at the Working Lives Research Institute of London Metropolitan University and at LAMES - the Mediterranean Laboratory of Sociology of Aix-Marseille University. In September 2015 he will take up a Professorship at Kingston University. His academic writing and films focus on the experiences and perspectives of migrants selling sex and love in the globalized sex industry. Through experimental ethno-fictions and original research findings Nicola Mai challenges the humanitarian politics of representation of the nexus between migration and sex work in terms of trafficking, while focusing on the ambivalent dynamics of exploitation and self-affirmation that are implicated.
After the screening there was a lively discussion of Prof Mai's practice as a documentary film-maker, particularly in relation to ethics and the use of actors in the film, as well as the issues raised by the subject matter in the fields of life histories and oral histories, especially of marginalised groups; sexuality and gender studies; queer theory and migration studies. The film and discussion were of particular interest to students on the MA Media Practice for Development and Social Change, MA in Digital Documentary and MA in Journalism and Documentary Practice.