The Sackler Centre for Consciousness Science publishes research in a wide range of journals and other scientific publications.
Featured Article
Neurophenomenology of induced and natural synaesthesia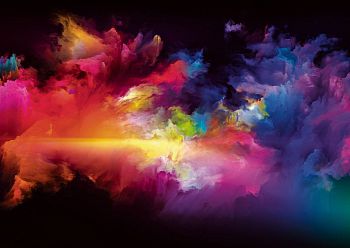 David J. Schwartzman, Daniel Bor, Nicolas Rothen and Anil K. Seth
Published: 21 October 2019
Philosophical Transactions of the Royal Society B, 374(1787), 20190030.
Synaesthesia is defined by the presence of additional perceptual experiences, which are automatically and consistently triggered by specific inducing stimuli. For example, in grapheme-colour synaesthesia, the letter 'A' printed in black may elicit a red colour experience. A long-standing question in synaesthesia research is whether it is possible to artificially induce non-synaesthetic individuals to have synaesthesia-like experiences. This paper reviews the current literature on artificially-induced forms of synaesthesia, evaluating the resulting synaesthesia-like experiences against some of the widely agreed upon hallmarks of genuine synaesthesia. The paper also highlights the relevance of synaesthesia, and its induced forms, for investigations into the cognitive and neural basis of conscious perception. In addition, the described alterations in perceptual phenomenology observed in developmental forms of synaesthesia and the rapid onset of induced synaesthesia-like experiences have huge implications for the plasticity of perceptual phenomenology. Together, these dramatic alterations in experience have the potential to shed light on the underlying mechanisms that contribute to experiential content and, more broadly, the origins of synaesthesia.
Forthcoming and recent publications
Bayne, T., Seth, A.K., Massimini, M. (in press) Complexity as an explanatory correlate of consciousness: Reply to 'Islands of awareness or islands of cortical complexity?' Trends in Neurosciences
Boonstra, E.A., van Schouwenburg, M.R., Seth, A.K., Bauer, M., Zantvoord, J.B., Kemper, E.M., Lansink, C.S. & Slagter, H.A., (in press) Conscious perception and the modulatory role of dopamine: no effect of the dopamine D2 agonist cabergoline on visual masking, the attentional blink, and probabilistic discrimination. Psychopharmacology
Lush, P. (2020) Demand characteristics confound the rubber hand illusion. Collabra: Psychology 6 (1) 22
Lush, P., Botan, V., Scott, R.B., Seth, A.K., Ward, J., Dienes, Z. Trait phenomenological control predicts experience of mirror synaesthesia and the rubber hand illusion Nature Comms 11:4853
Paciorek, A., & Skora, L. I. (2020) Vagus nerve stimulation as a gateway to interoception. Frontiers in Psychology
Rahnev, D., Desender, K., Lee, A. L., Adler, W. T., Aguilar-Lleyda, D., Akdoğan, B., ..., Sherman, M.T., … & Bègue, I. (2020). The confidence database. Nature human behaviour, 1-8
Roseboom, W. (2019) Serial dependence in timing perception. Journal of Experimental Psychology: Human Perception and Performance 45:1,100-110
Rosas, F.E., Mediano, P.A.M., Jensen, H.J., Seth, A.K., Barrett, A.B., Carhart-Harris, R.L.& Bor, D. (2020) Reconciling emergences: An information-theoretic approach to identify causal emergence in multivariate data. PLoS Computational Biology.
Rothen, N., Berry, C., Seth, A.K., Oligschläger, S., Ward, J. (2020) A Single System Account of Enhanced Recognition Memory in Synaesthesia. Memory and Cognition 48: 188-199
Seth, A.K., Hohwy, J. (2020)

Predictive processing as an empirical theory

for consciousness science. Cognitive Neuroscience
Skora, L.I, Scott, R.B. (2021) Instrumental conditioning requires conscious awareness

Suzuki, K., (2020) Virtual Reality and Altered Conscious Experiences (in Japanese), Psychology World, 88, 17-20, The Japanese Psychological Association eds
Tschantz, A., Seth, A.K., Buckley, C. (2020) Learning action-oriented models through active inference. PLoS: Computational Biology. https://doi.org/10.1371/journal.pcbi.1007805