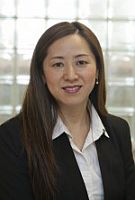 Dr
Yoko Nagai
Post:
Wellcome Trust Fellow (Sackler Centre for Consciousness Science)
Other posts:
Senior Lecturer in Translational Neuroscience (Neuroscience and Imaging)
Location:
TRAFFORD CENTRE (TCMR) 204
Email:
bsms2327@sussex.ac.uk

Telephone numbers
Internal:
6828
UK:
01273 876828
International:
+44 1273 876828
download vCarddownload vCard to your mobile
Role
Dr Yoko Nagai is a translational neuroscientist with interests in mind-body interaction and human consciousness. She is a pioneer of behaviorual therapy for drug resistant epilepsy: Autonomic Cognitive Rehabituation Training (ACRT). She is currently funded by the Wellcome Trust. Her current research investigates the central neural mechanisms of ACRT therapy in reducing seizure frequencies in patients with epilepsy, using simultaneous EEG and fMRI.
Community and Business
Dr Yoko Nagai is a neuroscientist based at the Brighton and Sussex Medical School, and a director of Biofeedback Global. She is a leading global authority on using behavioural therapy, involving galvanic skin response and electrodermal activity biofeedback, to address epilepsy.
In 2016, Dr Nagai received the Clinical Science Gowers Award from the International League Against Epilepsy, UK, in recognition of her ongoing research to better understand mind and body interaction in epilepsy. Over 20 years of working with people with epilepsy, she has developed a drug-free, self-directed and non-invasive programme for drug resistant epilepsy; ACRT.
ACRT – or Autonomic Cognitive Rehabituation Training – is a holistic method that explores the patient's specific physical and neural mechanisms, alongside their lives outside of the neurological clinic and the potential underlying emotional causes behind their seizures. It then provides the patient with a learned set of skills to anticipate and prevent them from happening.