As the new Pro-Vice-Chancellor for Research at Sussex I am especially pleased to introduce this year's Research Review. As we look forward to investing further in excellent research at Sussex, we can showcase here some of the significant contributions to knowledge in our society being made by our research community.
Sussex has long been home to Fellows of the Royal Society and the British Academy, and Academicians in the Social and Medical Sciences. This year has seen more of our leading academics appointed to national academic bodies – a recognition of their high standing in their academic community.
As a research-led institution, we are appointing strong and high-quality research staff to further enhance our academic standing, matching the continuing growth we have seen in our student numbers. This investment in the academy is a vital part of how we renew and develop ourselves as an excellent institution.
The University has continued to win significant research grants from the national research councils, the EU and from competitively won bids made to government and the private sector. We have also been successful in winning substantial new funding in support of our research, as part of our major fundraising campaign.
We are growing our research activity – with exciting new appointments in areas such as neuroscience and the establishment of new Research Centres, such as the Sussex Centre for Corruption Studies and the Andrew and Virginia Rudd Centre for Adoption Research and Practice.
Our connections within the UK have been reinforced, for example through the renewal of the multi-million pound South East Physics Network, while our international connections also continue to strengthen, with new arrangements with institutions in China and India.
Our academic engagement with wider society continues. Building on the Sussex Conversations of 2012 we have created an annual Sussex Conversation held at the Royal Institution.
Our Doctoral School has invested in over 100 scholarships to support leading doctoral researchers at Sussex, the academic leaders of the future.
As we look ahead, our continued focus will be on the excellence and impact of our research, which will be demonstrated by our performance in the 2014 Research Excellence Framework. And we will continue to see success in fostering the application of our research and spin-outs, a success recognised by the 2013 Queen's Award for Enterprise Promotion made to Mike Herd, the Executive Director of our Sussex Innovation Centre.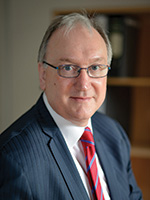 Professor Michael CR Davies FRSE
Pro-Vice-Chancellor (Research)