At the University of Sussex, we are celebrating our 50th anniversary in 2011-12. Since our founding, the strength of Sussex has been grounded in our research. I am delighted, therefore, to introduce this 2011 Research Review, showcasing just some of the work currently breaking new ground at the University.
I am proud that we are now rated as a world-leading institution – comfortably in the top 100 universities as measured by the latest Times Higher Education World University Rankings 2010. That position of course reflects the overall quality of our teaching and learning, but it also represents real excellence in our research activity.
As it has from the start, our research informs our teaching – so undergraduates coming to Sussex know that they are learning from researchers at the leading edge of their fields of study. That is as true today as it was in the 1960s, when undergraduates flocked to us as one of the pioneering 'new' universities.
The distinct interdisciplinary approach which our founding academics created – bringing different disciplines together to find novel approaches and solutions to challenging questions – is even more fitting to the complex problems facing the world today than ever before.
Our six research themes – which have given us a renewed interdisciplinary vision for the 21st century – draw on the robust academic foundations provided by each of our 12 academic schools of study, formed in 2009. A fundamental part of their academic development will be building a strong talent pipeline of future academic talent. To this end, we created the Sussex Doctoral School and the Junior Research Associate Scheme – and this work continues.
We have recently announced that the University is investing over £3 million in 2011 to support up to 70 doctoral studentships at Sussex across the arts, sciences and social sciences, including Research Council Studentships from six research councils. The new Doctoral Training Centre, funded by the Economic and Social Research Council (ESRC), is one of only 12 single-institution centres in the UK to win this funding. There will also be a small number of Sussex Fund 50th Anniversary Research Scholarships, which are provided through the generosity of Sussex alumni.
And among 50th anniversary events and activities, I am particularly looking forward to our series of 'Sussex Conversations', each based on one of our research themes. These debates will bring together Sussex academics with some of the UK's leading figures to discuss the issues of the day. I hope to welcome many new friends and colleagues to join us; find out more on the 50 years website.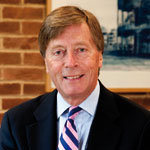 Professor Michael Farthing
Vice-Chancellor