I am excited to be the Pro-Vice-Chancellor for Research at Sussex, in this, our 50th year. Sussex researchers have been awarded many prizes along the years, including three Nobel prizes and the Crafoord Prize. Our faculty have been conferred with Fellowships of the Royal Society, of the British Academy, and of the Royal Academy of Engineering.
As we make our way into our next 50 years, we will be taking our academic heritage forward into the 21st century, ensuring our work continues to bear the traditional Sussex values of interdisciplinarity and addressing current world issues. The Vice-Chancellor in his introduction has already set ways in which we are supporting the development of research at Sussex – including the Sussex research themes, which this review is built around. I want to mention one very important additional new strand: the launch of a major new fundraising campaign, 'Making the Future'.
In recent years, we have already been successful in attracting funds to support research at Sussex. For example, the world-leading Genome Damage and Stability Centre was built with support from the Wolfson Foundation. The Medical School created in 2003 had generous support from Pfizer. And last year we launched a new Centre for Consciousness Science – supported, and indeed named after, the Dr Mortimer and Theresa Sackler Foundation.
We now have major donations to be announced, which will support academic work across the arts, sciences and social sciences. Such fundraising is not designed to replace the fundamental investment which Sussex is making in our work, supported by public and private funds. But it adds the margin of difference that transforms the excellent into the exceptional.
Like the research themes, the types of projects we are seeking funding for are characterised by two fundamental features. Whether they are an initiative to tackle climate change in Africa, or a new centre to examine the roots and solutions to corruption, or our project to bring to life the original works of Newton – they are interdisciplinary and they deal with current world issues.
The funds we are raising will enable us to create new chairs in key areas. They will be an investment in new infrastructure for our top researchers. They will help attract the brightest minds from around the world to come to Sussex. Those researchers and students will come in the footsteps of legendary Sussex researchers like Sir Harry Kroto, John Maynard Smith and Sir John Cornforth.
And in 50 years time, we hope that Sussex will be celebrating the contributions the top Sussex researchers of today will have made to the world.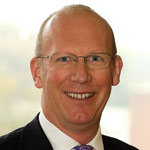 Professor Bob Allison
Pro-Vice-Chancellor (Research)