John Drury's work on crowd events, crowd experiences, and crowd behaviour
The crowd is at the centre of social life: national and international events, social change and civic celebration, major incidents and everyday life – all involve experiences with crowds. In the past, social scientists claimed that the crowd was a source of social ills and social dysfunction. In a number of disciplines and topic areas, crowd researchers have moved away from this narrow, unidirectional view. 'The Crowd' project is a series of interlinked studies which seeks to provide a theoretical framing for our multiple experiences of crowd events.
Representing and managing crowd events
This Leverhulme-funded project examines the representations of crowd psychology held by crowd managers, including event organizers, emergency planners and the police. Negative views of the crowd, such as 'mass panic', rationalize and legitimize forms of crowd management that have been shown to undermine informal collective resilience. This survey, document analysis and interview study examines the extent to which different crowd professionals endorse negative (or positive) views of the crowd, and how these operate in practice.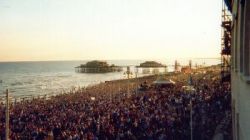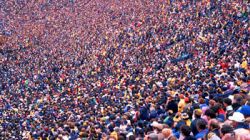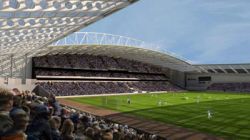 Collective action, empowerment and well-being
Collective action such as mass protests can change society. Such action may also impact upon the psychology of the protestors themselves. This research strand grew out of our studies of identity change in collective action. The work provide a link between identity and work on emotion and wellbeing among people involved in collective events, by using field and experimental studies to explore the way that mass activism promotes a positive sense of agency. Collaborators on this work include colleagues and research students in Greece and the Netherlands.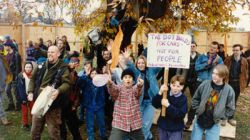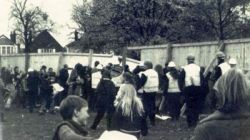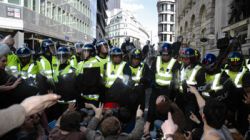 Bulletin article: Collective action is good for you
Blog post: Egypt and identity politics
Collective joy and the power of the crowd: commissioned article for Fabrica art gallery
The crowd psychology of the Hajj
The annual Hajj or pilgrimage to Mecca involves around two million people. Engineering, architecture and design expertise have all been applied to understanding the Hajj and ensuring the safety of those involved. This research project complements these perspectives with a psychological account of crowd experience. In contrast to previous accounts in psychology, which suggested that crowds are inherently aversive, conflictual and prone to irrational panic, early findings from our interviews with pilgrims on the Hajj have uncovered evidence of joy from being part of the crowd, feelings of harmony, and cooperation among strangers.
Blog post: Why do 'stampedes' happen at crowd events?
Psychosocial tools for resilience in emergencies and disasters
Medical first responders have a range of specialisms and the expertise to deal with the spectrum of major accidents and mass emergencies. Alongside these formal skills, such first responders also have informal knowledge for dealing with stress in both the public and themselves. These 'soft skills' have been shown to contribute to recovery and therefore constitute a key contribution to psychosocial resilience. This project, funded by the Department of Health and Royal College of Psychiatrists, seeks to produce an evidence-base of professional first responders' knowledge and needs for psychosocial resilience in order to develop tools for training, education and support.
Psychosocial tools project site
Mass communication in a CBRN incident
Mass emergencies are stressful events, and this is especially likely when the source of the emergency is novel or unusual in some way. In the event of a chemical attack or accident, the emergency services will need to communicate to those affected in order to get them undertake basic de-contamination procedures as soon as possible. This work, funded by the Health Protection Agency, uses interviews, analysis of field trials, and a large-scale experiment to examine how different forms of communication interact with perceptions of social relations (within the crowd and with the emergency services) can affect extent of compliance in mass decontamination.
Relevant publications
Drury, J., Kemp, V., Newman, J., Novelli, D., Doyle, C., Walter, D., & Williams, R. (in submission). Psychosocial care for those persons affected by emergencies and major incidents: A Delphi study to determine the needs of professional first responders for training and support.
Carter, H., Drury, J., Rubin, G. J., Williams, R., & Amlot, R. (in press). Public experiences of mass casualty decontamination. Biosecurity and bioterrorism
Drury, J., Novelli, D., & Stott, C. (in press). Psychological disaster myths in the perception and management of mass emergencies. Journal of Applied Social Psychology.
Ball, R., & Drury, J. (2012). Representing the riots: The (mis)use of statistics to sustain ideological explanation. Radical Statistics, 106, 4-21.
Drury, J., & Stott, C. (2011). Contextualizing the crowd in contemporary social science. Contemporary Social Science, 6(3), 1-15.
Drury. J., & Reicher, S. (2010). Crowd control: How we avoid mass panic. Scientific American Mind, November/December 2010, 58-65.