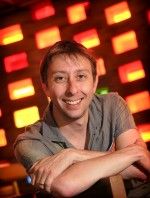 Professor Jamie Ward, struggled to find a book to recommend to students on the cognitive neuroscience course. 'There didn't seem to be any book with the depth and breadth of material required that would enable students to develop their knowledge of the subject' reports Jamie.

So Jamie decided to write his own book. Combining information from his own lectures with independent research, 'The Student's Guide to Cognitive Neuroscience' provides a detailed discussion of the methods of cognitive neuroscience, such as brain imaging, and explains how they shed light on mental processes such as memory, perception, and decision-making. This guide is now one of the best-selling textbooks in both North America and Europe, having sold more than 30,000 copies to date.
To add to his success, Jamie has recently finished 'The Student's Guide to Social Neuroscience'. Social Neuroscience explores the brain mechanisms that support thoughts and behavior in the social world, including empathy, trust, prejudice and love. This is the first textbook on this topic by a sole author.

The Student's Guide to Social Neuroscience' is avant-guarde not just in the way it approaches social neuroscience, but also in format as it is published as an interactive e-textbook as well as in print form. The study material provides students with access to a whole electronic world of YouTube videos, interviews and multiple choice practice questions to help them learn and develop their understanding of social neuroscience.
As well as being used around the world, both textbooks are used as core material for Dr. Ward's lectures at Sussex. He presently teaches a final year option in 'Cognitive Neuroscience' and a masters-level course in 'Social Neuroscience'.

In addition to writing textbooks, Jamie is a leading researcher on synaesthesia - a fascinating condition in which people may experience numbers as coloured, taste flavours in the mouth when listening to speech, or see music as a kaleidoscope of shapes. He has written an account of this, aimed at a general audience, in 'The Frog who Croaked Blue: Synesthesia and the Mixing of the Senses' (published by Routledge). It would be an interesting read for sixth formers thinking of studying psychology or neuroscience at University and, who knows, maybe you will end up conducting your own research on this topic as part of your final year project at Sussex.
Read an excerpt from The Student's Guide to Social Neuroscience by Jamie Ward.
Watch lectures from The Student's Guide to Cognitive Neuroscience [YouTube] by Jamie Ward.