Applied Cognitive Psychology is one of the electives available to second year students at Sussex. The module aims to provide students with a sound knowledge of contemporary theories and research on cognitive psychology in real-world contexts, and the issues involved in applying these theories to real-life situations.

Two books published by eminent cognitive psychologist Dr Graham Hole; The Psychology of Driving and Face Processing – psychological, neuropsychological and applied perspectives cover two thirds of the module content.
The Psychology of Driving focuses on the application of psychology theories of perception and attention in relation to driving such as 'look but fail to see' incidents and the effects of using mobile phones.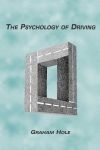 'I wanted to write a book that would show people how psychology is useful in relation to understanding driving a book that would be intellectually rigorous, but easy to read. At Road Safety Conferences, I was struck that professional accident investigators only thought in terms of physics, such as looking at the length of skid marks to determine the speed at which a vehicle hit a pedestrian. Yet, 98% of accidents are due to human error' says Graham. Supported by current research, the book highlights the importance of psychological factors in driving and provides a detailed textbook for students.
Face Processing – psychological, neuropsychological and applied perspectives also focuses on the application of psychology theories such as perception and memory in a criminological context. 'When we decided to write this book no textbook had been published since 1998, despite a large amount of research in the area of face recognition' states Graham.

Hole and Bourne's book provides students with an up to date review of different areas of research involving faces, as well as detailing methods used by face researchers. The book was shortlisted for the British Medical Association's Book of the Year, and is relevant to students taking the third year option 'Reading Faces'.
Students taking the Forensic and Applied Cognitive Psychology module benefit not just from both of these insightful books, but learn 'straight from the horses mouth' as Graham teaches 60% of the module.