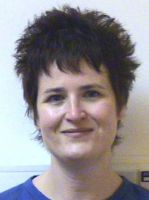 Dr
Karen Long
Biography
Sussex University: Psychology Home Page
Education:
BA Psychology and PhD (Social Psychology) University of Manchester

Posts held:
Lecturer in Psychology, University of Cardiff 1991-1994
Lecturer in Social Psychology, University of Sussex, 1994-present

Academic Roles:
Director of Student Support for School of Life Sciences 2004-2009
Module organiser: Social Psychology (year 2), Organisational Psychology (Year 3),
I am interested in all aspects of group relationships, especially issues arising from social identity theory and self-categorisation theory. My specific area of interest is the articulation of social and personal identities in group contexts. I have published work on the role of personal and collective self-esteem in intergroup relations. More recently, I have extended this work to focus more on intragroup processes. Currently, I am examining the influence of pride in one's ingroup, and respect from other group members on commitment to the group; and the influence of your position in the group on the attitudes held towards both the ingroup and relevant outgroups.
I am also interested in the application of social psychology to computer technologies, and the internet in particular. I supervised a PhD on the effects of applying for a job via the internet, and have collaborated with my colleague Helga Dittmar in researching social psychological aspects of internet shopping. Project students working with me are extending this work to look at social psychological aspects of other internet behaviours.
Contemporary Issues in Psychology (Year 1): Gender
Social Psychology (Year 2)

Organisational Psychology (Year 3)
Student Consultation
Office hours: Mondays 3-4, Wednesdays 12-1
Other times by appointment (please email first)