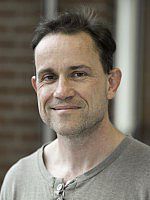 Prof
Zoltan Dienes
Post:
Professor in Experimental Psychology (Psychology, Sackler Centre for Consciousness Science)
Other posts:
Martial Arts/Programme Instructor (Sussexsport)
Location:
Pevensey 1 2b02
Email:
Z.Dienes@sussex.ac.uk

Telephone numbers
Internal:
7335
UK:
01273 877335
International:
+44 1273 877335

Research expertise:
download vCarddownload vCard to your mobile
Biography
For my publications please go to my homepage:
http://www.lifesci.sussex.ac.uk/home/Zoltan_Dienes/
BA (Hons) Natural Sciences 1984 University of Cambridge
MA (Hons) Experimental Psychology 1987 Macquarie University
D.Phil Experimental Psychology 1990 University of Oxford
Lecturer 1990-1997 Experimental Psychology, University of Sussex
Reader 1997 - 2008 Experimental Psychology, University of Sussex
Professor 2008- Psychology, University of Sussex
Role
Course Convenor: Conscious and Unconscious Processes; Perspectives on Psychology
Integrated Martial Arts Instructor. Line manager is Luke Terrill.
I am exploring ways of changing common practice in statistical inference by using Bayesian methods.
I am interested in the distinction between conscious and unconscious mental states, both states of knowing and intending. For example, much of the knowledge we acquire for dealing with the world appears to be unconscious. We can learn to use certain linguistic structures, to appreciate certain styles of music, to obey cultural rules, or to gain perceptual motor mastery of a domain without consciously knowing the underlying regularities. How is such knowledge acquired? By what methods can know whether knowledge is conscious or unconscious? What type of structures can be learnt unconsciously? How can such learning be computationally modelled? I am also interested in hypnosis, a way of acting which I argue is intentional but the person is strategically unaware of those intentions.
I am course convenor for Conscious and Unconscious Mental Processes, a final year option; and for Perspectives on Psychology, a final year core course. In addition, I teach a topic on hypnosis for the first year elective Contemporary Issues in Psychology, and a topic on philosophy of science as part of core teaching for masters students.
Barrett, Adam B, Dienes, Zoltan and Seth, Anil K (2013) Measures of metacognition on signal-detection theoretic models. Psychological Methods., 18 (4). pp. 535-552. ISSN 1082-989X
Parris, Benjamin A, Dienes, Zoltan and Hodgson, Timothy L (2013) Application of the ex-Gaussian function to the effect of the word blindness suggestion on Stroop task performance suggests no word blindness. Frontiers Research Foundation.
Dienes, Zoltan and Hutton, Sam (2013) Understanding hypnosis metacognitively: rTMS applied to left DLPFC increases hypnotic suggestibility. Cortex, 49 (2). pp. 386-392. ISSN 0010-9452
Rohrmeier, Martin, Fu, Qiufang and Dienes, Zoltan (2012) Implicit learning of recursive context-free grammars. PLoS ONE, 7 (10). e45885. ISSN 1932-6203
Parris, Benjamin A, Dienes, Zoltan and Hodgson, Timothy L (2012) Temporal constraints of the word blindness posthypnotic suggestion on Stroop task performance. Journal of Experimental Psychology. Human Perception and Performance, 38 (4). pp. 833-837. ISSN 1939-1277
Kiyokawa, Sachiko, Dienes, Zoltán, Tanaka, Daisuke, Yamada, Ayumi and Crowe, Louise (2012) Cross cultural differences in unconscious knowledge. Cognition, 124 (1). pp. 16-24. ISSN 1873-7838
Mealor, Andy David and Dienes, Zoltan (2012) Conscious and unconscious thought in artificial grammar learning. Consciousness and Cognition, 21 (2). pp. 865-874. ISSN 1053-8100
Mealor, Andy and Dienes, Zoltan (2012) No-loss gambling shows the speed of the unconscious. Consciousness and Cognition, 21 (1). pp. 228-237. ISSN 1053-8100
Dienes, Zoltan (2012) Conscious versus unconscious learning of structure. In: Statistical learning and language acquisition. Studies in second and foreign language education, 1 . De Gruyter Mouton, Boston. ISBN 9781934078235
Dienes, Zoltan, Baddeley, Roland J and Jansari, Ashok (2012) Rapidly measuring the speed of unconscious learning: amnesics learn quickly and happy people slowly. PloS ONE, 7 (3). e33400. ISSN 1932-6203
Guo, Xiuyan, Zheng, Li, Zhu, Lei, Yang, Zhiliang, Chen, Chao, Zhang, Lei, Ma, Wendy and Dienes, Zoltan (2011) Acquisition of conscious and unconscious knowledge of semantic prosody. Consciousness and Cognition, 20 (2). pp. 417-425. ISSN 1053-8100
Dienes, Zoltan, Scott, Ryan B and Wan, Lulu (2011) The role of familiarity in implicit learning. In: Constructions of remembering and metacognition: essays in honour of Bruce Whittlesea. Palgrave Macmillan, New York. ISBN 0230579418
Dienes, Zoltán and Scott, Ryan (2005) Measuring unconscious knowledge: Distinguishing structural knowledge and judgment knowledge. Psychological Research, 69 (5-6). pp. 338-351. ISSN 0340-0727
Tuesday 09:30-10:30
Thursday 09:30-10:30