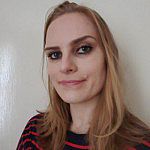 Miss
Rachel Clarke
Role
My doctoral research is focusing on working family carers of a person with dementia. This work is being supervised by Dr Henglien Lisa Chen in the department of Social Work and Social Care, and Dr Jennifer Rusted in the department of Psychology This research is project linked to the 'Living Well with Dementia' study and is funded by the Economic and Social Research Council (ESRC) and the National Health Research Council (NHRC).
The aims of this study are to extend our understanding of factors associated with sustainable psychological wellbeing in family carers of a person with dementia who are maintaining employment alongside the caring role. We will utilise a mix of qualitative and quantitative methods, underpinned by multi-disiplinary research such as: psychology, social care, social policy, and anthropology. These findings will be complemented by a comparison of the factors associated with psychological wellbeing between a larger cohort of working and non-working family carers from the national 'Living Well with Dementia' project. In the final stage, all results will be merged to try to develop a model of sustainable work and life balance which assists in the development of services and support for working family carers in the UK.
I am currently in the third year of my doctoral research, and nearing the end of my fieldwork.
If you would like to hear more about this project, please contact me on:
Email; rc362@sussex.ac.uk; Tel; 07902 651500; Twitter; @rachelclarke36
Qualifications
BSc Psychology. University of Lincoln
MSc Mental Health Studies. King's College, London.
Activities
Clarke, Rachel (2017). Exploring psychological wellbeing in working dementia carers. In: AAIC 2017 London. Alzheimer's Association International Conference.
Clarke, Rachel (2017). Wellbeing, Work And Life Balance, Working Family Carers Of People With Dementia: A Review. in: NHS Sussex Partnership, NHS Foundation Trust: Dementia Seminar, Sussex Education Centre, Hove.
Clarke, Rachel (2016). Quality of life and wellbeing in working carers. In:Brighton and Sussex Medical School, University of Sussex.
Clarke, Rachel (2015). Work and life balance among working family carers of a Person with Dementia. Clinical Research Network. Kent Surrey and Sussex: Ageing Specialty Meeting- Poster Presentation (first prize).