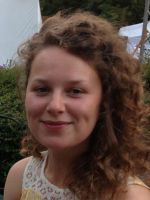 Miss
Keri McCrickerd
Biography
I graduated with a BSc in Experimental Psychology from the University of Bristol in 2009. During this time I conducted a research project supervised by Jeff Brunstrom and Charlotte Hardman, investigating children's expectations of fullness of a range of snack foods, and the relationship between these expectations and the child's familiarity with the products. In 2010 I began a 4-year PhD funded by BBSRC DRINC initiative, supervised by Prof. Martin Yeomans and Dr Lucy Chambers at the university of Sussex. My PhD research is focused on the role of cognitive and sensory influences on satiety and satiation, with a focus on the design of satiating drink products.
2010-Present: DPhil Experimental Psychology, University of Sussex
2006-2009: BSc Experimental Psychology, University of Bristol
Role
DPhil Researcher and Associate Tutor
My research interests include:
Portion size decisions
Satiety
Expectations about satiety and satiation
Beverages and energy balance
Food product design
Determinants of eating behaviour in children
More information about this research and the wider research from our lab group can be found on the Sussex Ingestive Behaviour Group webpage.