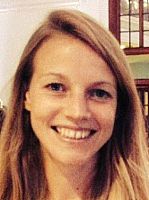 Ms
Katy Budge
Biography
Katy's research explores the concept of 'Cosmopolitan Europe' in the context of the European Union's citizenship, migration and asylum policies.
She is supervised by Gurminder Bhambra and James Hampshire and holds the School of Law, Politics and Sociology PhD Scholarship (fees and stipend).
In addition to her research, Katy works with projects that collaborate with refugees to improve living standards, educational opportunities and community well-being.
Before starting her doctoral studies, Katy spent ten years working for the UK government, most recently as Head of Constitutional Policy at the Cabinet Office.
Role
Doctoral Researcher, Associate Tutor (Politics)
Activities
Associate Tutor Teaching:
- Making of Modern Europe
- Political and Social Change in Contemporary Europe
- European Politics
Publications:
Budge, K (2018) The 'Terrible Paradox' of EUtopia: a view from the Aegean Islands Political and Legal Anthropology Review
Budge, K (2018) Gibraltar's decision to strip flag from Aquarius rescue vessel risks undermining ancient seafaring principle of solidarity The Conversation
Budge, K (2018) Campaign to ⌗SavePikpa as vulnerable people are threatened with eviction from a refugee camp on Lesvos Huffington Post
Budge, K (2018) The Aquarius and its historical precedents: rescue at sea and the politics of disembarkation Refugee History (also published with Huffington Post)
Budge, K (2018) 'Why it's categorically untrue that the constitution allows Theresa May to bypass Parliament' Huffington Post
Budge, K (2018) 'Refugees out of sight, out of mind two years on from EU-Turkey Deal' The Conversation
Budge, K (2018) 'O Hear Us When We Cry To Thee' In: Border Lampedusa - Subjectivity, Visibility and Memory in Stories of Sea and Land Palgrave Macmillan