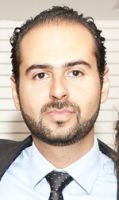 Mr
Miguel Angel Lara Otaola
Biography
Democracy practitioner and scholar with +8 years of progressive responsibility and a range of relevant skills and experiences in the field of elections and election support.
Role
PhD in Politics. School of Law, Politics and Sociology. University of Sussex.
Research: "Election Results: When, where and under what conditions are they accepted? A global comparative study"
Qualifications
EDUCATION
PhD in Politics. University of Sussex "When, where and under what conditions are electoral results accepted?: A global comparative study"

MSc in Comparative Politics. London School of Economics and Political Science. Merit.
Key modules: Comparative Politics, Comparative Democratisation and Democracy in Latin America/ Southeast Asia/East and South Asia. Dissertation: Legitimacy, contested elections, and democratic consolidation: The contrasting cases of Mexico and Peru.
MPA in Public Administration and Public Policy. Instituto Tecnológico y de Estudios Superiores de Monterrey (ITESM) in partnership with the Kennedy School for Government of Harvard University. Grade: 97/100. Valedictorian. Summa Cum Laude.

B.A. in International Affairs. ITESM. Grade: 95/100 Summa Cum Laude.
WORK EXPERIENCE
2011-14 IFE. Federal Electoral Institute, Mexico. Senior Adviser (International Affairs) to the President Councillor.
International electoral cooperation / Election Observation / Electoral Research and Capacity Building / Electoral technical assistance
2010-11 AMIJ. Mexico Justice Association, Mexico. Adviser
Programme Manager, Elections and Justice programme. Director and co-host "AMIJ punto de encuentro" TV Show.
2009-10 UNDP. United Nations Development Programme, Mexico. Junior Researcher.
Support to the Global Programme for Electoral Cycle Support (GPECS) / Management and implementation of political analysis project for strengthening Mexico's Electoral Tribunal.
2009 ODI. Overseas Development Institute, UK. Consultant
Governance and aid effectiveness / Gender mainstreaming and social policy
2007-08 UNDP, Mexico. Research Assistant.
Development of a project for the creation of an International Programme for Electoral Research and Training / Democracy assistance and capacity building.
2006 IFE, Mexico. Adviser to the General Legal Director.
Comparative research on political and electoral systems / Prospective political analysis
2005 Procter & Gamble. Intern - Customer Business Development.
2003 IEDF. Federal District's Electoral Institute, Mexico. Intern - Electronic Vote.
Citizen engagement and new technologies (Electronic ballot)