Fairtrade Fortnight with Sussex Food
By: James Robinson
Last updated: Tuesday, 28 February 2023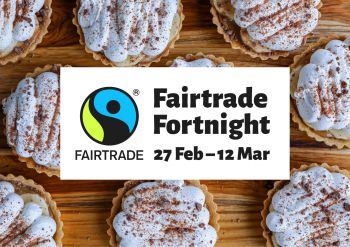 It's Fairtrade Fortnight from 27 February – 12 March and we wanted to take the opportunity to not only promote all the high quality, high welfare products that we sell across campus, but also to educate and inform everyone about what it means when something is Fairtrade and what you can do to help.
Fairtrade changes the way trade works through better prices, decent working conditions, and a fairer deal for farmers and workers in low-income countries.
Fairtrade International is an independent non-profit organization representing 1.9 million small-scale farmers and workers worldwide. It owns the FAIRTRADE Mark, a registered trademark of Fairtrade that appears on more than 37,000 products. Beyond certification, Fairtrade International and its member organizations empower producers, partner with businesses, engage consumers, and advocate for a fair and sustainable future.
Fairtrade Fortnight this year will highlight the urgent threat to the future of the foods we love and the livelihoods of the people who grow them, as they face the worst effects of the climate crisis. Without our support for fairer prices today, farmers will find it even harder to tackle the climate and economic challenges of the future. ​​
Smallholder farmers simply can't foot the bill for adapting to economic and climate change on their current incomes. This fortnight and beyond, Fairtrade is asking shoppers to act now and choose Fairtrade to back the farmers behind some of our favourite products to ensure they are paid fairly and can keep farming through these extremely tough times.  
How to take action
Choose Fairtrade whenever you can. Choose to invest in the farmers doing amazing work to secure a sustainable future for food.
Spread the word. If more of us are informed about Fairtrade we can make an even bigger difference. Visit the Fairtrade social media channels, including Facebook, Twitter and Instagram, or sign up for emails by visiting fairtrade.org.uk/join
Make a Community Declaration of Solidarity. In every single UK constituency, Fairtrade supporters have started a Community Declaration of Solidarity for farmers taking on the climate crisis. Visit the Fairtrade and Climate Justice campaign page to sign and share today.
Sussex Food Fairtrade specials
Made in-house banoffee tarts. A dessert originating here in East Sussex, these buttery pastry cases are filled with thick caramel, Fairtrade bananas, light whipped cream and topped with Fairtrade chocolate crumb. £2.50 and worth every penny!
All our coffee and tea in cafes across campus is Fairtrade. For the next two weeks we will be doing our best to highlight our Fairtrade retail products in every outlet, so keep an eye out!
We'll also be posting daily on Instagram to highlight relevant issues and educate anyone interested in learning more about Fairtrade! Give us a follow on @sussexfoodie for more.