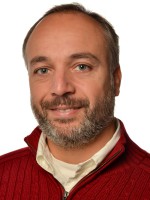 Prof
Alessandro Cerri
Post:
Professor (Physics and Astronomy, Experimental Particle Physics Research Group)
Other posts:
Reader in Experimental Particle Physics (Data Intensive Science Centre at the University of Sussex)
Location:
PEVENSEY 2 4A15
Email:
A.Cerri@sussex.ac.uk

Telephone numbers
Internal:
8187
UK:
01273 678187
International:
+44 1273 678187

Research expertise:
download vCarddownload vCard to your mobile
Biography
Employment
2018-present: Professor of Physics and Astronomy, University of Sussex
2014-2018: Reader in Physics, University of Sussex
2013-2014: Senior (since 10/2014) Lecturer in Physics, University of Sussex
2012-2013: Visiting Scientist, Lawrence Berkeley National Laboratory
2006-2012: Staff Scientist, CERN
2001-2006: Post-doctoral Fellow, Lawrence Berkeley National Laboratory
1997-2001: Research associate at INFN Pisa
Education
1997-2001: PhD (Perfezionamento) at Scuola Normale Superiore, Pisa, Italy
1992-1997: Laurea in Fisica, Universita` di Pisa, Italy
1992-1997: Diploma di Licenza, Scuola Normale Superiore, Pisa, Italy
1987-1992: Maturita` Scientifica, 60/60, Liceo Scientifico F. Buonarroti, Pisa, Italy
Role
Coordinator of the B physics analysis group for the ATLAS experiment
Role
Professor Cerri devotes his research time to the ATLAS experiment at the CERN Large Hadron Collider, both in the areas of data analysis and detector upgrade and operation. He has been coordinating the operation of the ATLAS experiment until 2017, including the commissioning of the full detector and the coordination with the other experiments and the Large Hadron Collider. previously he has been coordinating one of the main analysis groups of the experiment, after having coordinated for several years the operation of the ATLAS real time event selection system (trigger). He is also a member of the Particle Data Group, which publishes the most referenced publication in particle physics.
Community and Business
When he is not working, Dr. Cerri enjoys sailing and skiing, as well as travelling and outreach activities. He has been teaching dinghy sailing to beginners and more experienced sailing enthusiasts at the CERN Yachting Club, where he has served also as club president. Dr. Cerri is an official CERN guide and an official guide of the ATLAS experiment. He routinely guides visits of the general public and high school students through the CERN site, in english, french and italian.