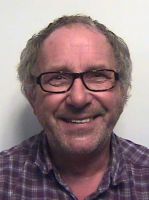 Dr
John Gribbin
Post:
Associate Tutor (Physics and Astronomy)
Other posts:
Visiting Research Fellow in Astronomy (Physics and Astronomy)
Visiting Fellow (Astronomy Centre)
Location:
Pevensey 2 5a03
Email:
J.R.Gribbin@sussex.ac.uk

Telephone numbers
Internal:
8110 or 8557
UK:
01273 678110 or 01273 678557
International:
+44 1273 678110 or +44 1273 678557
download vCarddownload vCard to your mobile
Biography
One of the first students at Sussex, John also studied in Cambridge and has worked on the journals Nature and New Scientist. From 1975 to 1978 he was a member of the Science Policy Research Unit. He now writes books about science, and is best known for In Searchh of Schrodnger's Cat. His latest book, Computing With Quantum Cats, provides the background to work on quantum computing, in which Sussex is a world leader.
Role
John Gribbin is a Visiting Fellow in astronomy and has taught the course Our Place in the Cosmos. He writes books for a living.
Almost anything scientific, but especially quantum physics, extragalactic astronomy, and evolution. These are, though, "only" interests; I am no longer actively involved in any research.