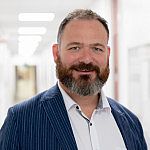 Dr
Simon Peeters
Biography
Dr Peeters got his Master's degree in Applied Physics at the University of Twente and his PhD at NIKHEF/University of Amsterdam. He joined Sussex after a researcher career of five years at the University of Oxford.
Role
Community and Business
Dr Peeters regularly gives public talks about particle physics to the general public, secondary and primary schools. He is also actively involved with (local) business in developing better products, based on his experience.