Information for anyone interested in Physics & Astronomy events, talks and activities.
We have a variety of activities, workshops and talks available to schools and other interested parties. They have all been designed for a range of age groups and are presented by members of the Department (either a researcher, research student, postgraduate or undergraduate student).
We welcome any private group or society interested in visiting the department. We've previously worked across all age ranges, with a variety of groups, including: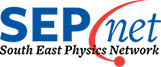 You are welcome to download our Outreach handbook [PDF], or please email us at physicsoutreach@sussex.ac.uk to request a hard copy.
To keep up to date with all our activities and upcoming events, please email your name, position and group to physicsoutreach@sussex.ac.uk