We are the Department of Physics & Astronomy at the University of Sussex, and we have a large and well established Outreach Programme. Our aim is to encourage more students to study physics at A-level and beyond, and to offer support to those teaching physics.
If you visited our Stargazing Live thermal (infrared) Photo Booth, you can now pick up your thermal photos!
Who we are
The University of Sussex is part of SEPnet, the South East Physics Network, a network of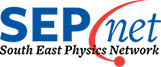 universities all working together to promote physics through developing and delivering high-quality outreach.
What we do
We offer a large range of FREE outreach activities to local schools and colleges, for a range of ages
Teachers and students can engage with our activities either here at the University of Sussex campus in Brighton, or we can travel to you (conditions apply)
During the 2014/5 academic year, we worked with over 12,500 students from over 100 different schools and colleges at over 130 events.
Our large variety of physics and astronomy activities are delivered by either our outreach officer, our researchers, or our trained postgraduate and undergraduate students - all serving as wonderful role models for the next generation of physicists.
You can book onto our activities via this website.
Key information
Please note:
All our activities are free!
We are flexible. If you have an idea for an activity or talk not listed, please get in touch and we will do our best to accomodate you.
Multiple activities can be done during a single visit (e.g. 'Solar observing' with a 'How to be an Astrophysicist' careers talk).
All our activities are suitable for Key Stage 4 and 5 (e.g. GCSE and AS/A-level/sixth-form) students, and some are suitable for the general public.
Please give us as much notice as possible when requesting an activity to ensure that we have enough staff available on the day. This is especially important for larger events (more than 25 students) which will require more than one member of the Department to assist.
We may limit the number of times that we visit a particular school per academic year (depending on size), to enable us to visit as many schools as possible.

You are welcome to download our Outreach handbook [PDF], or please email us at physicsoutreach@sussex.ac.uk to request a hard copy.
To keep up to date with all our activities and upcoming events, please email your name, position and school/college to physicsoutreach@sussex.ac.uk.