The Department of Physics and Astronomy at the University of Sussex is a founder member of the South East Physics Network (SEPnet), a partnership of nine Physics departments within the South East region of England. These departments work together to advance and sustain Physics as a strategically important subject for the UK economy and its science base in the region.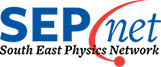 In 2008 Sussex received a joint award of £12.5 million from SEPnet to enhance collaboration in graduate teaching and research. In 2013 – after successfully exploiting the growing national interest in Physics – we benefited from another joint award of £13.1 million to support vital research, teaching and development of Physics in the South East.
Visit the SEPnet website for more information.
Our SEPnet video conferencing room is Room 4C10 in Pevensey 3 building. The timetable of availability for this room can be viewed on our calendar.
A calendar showing shared SEPnet lectures can be viewed here (login required).
SEPnet Employer Programme
The SEPnet's Employer Programme provides placements and other employer engagement opportunities for SEPnet physics undergraduates and supports postgraduate research students through its Graduate Network (GRADnet). SEPnet works with industry to address skills needs and creates opportunities for industry and SEPnet partner Physics Departments to work more closely together.
Here at the University of Sussex our dedicated Employer Engagement Officer offers our students access to employers in a variety of ways:
8 week funded summer placements
Site visits and tours to employer facilities
Employer talks and workshops within the department
Mock interview practice from an employer with feedback
Employers in the curriculum – e.g. year 2 careers course
For further information please email Emma Hallatt e.r.hallatt@sussex.ac.uk
Placements case studies:
Students have the opportunity to carry out 8 week projects in such sectors as research, science communication, geophysics and information technology. Three students talk about their experiences below:
Nick Bromfield - Modelling Fuel Assemblies in Boiling Water Reactors, AMEC

Describe a typical day:

In a typical day I would use the WIMS software to model different fuel assemblies. The data from this software would then be collated into a spread sheet where it could be compared to data from different sources.

Why did you decide to do a placement?

Going to university and getting a good degree is important, but it is also crucial that you are able to show future employers that you have gained skills over your degree that you can use in the workplace.

Would you recommend doing a placement?

In one word: yes. These placements provide a great introduction to the working world and give you a platform to be able to show employers that you can transfer the skills gained from your degree into the workplace.

How do you think doing a placement has benefited you for the future?

For a start it has given me something to put on my CV! I have learnt about a new area of physics that I had not previously covered in much detail and it has also given me the experience of putting the transferable skills from my degree into practice.

Tin Le - Photonics Impact Study Research Placement, The Knowledge Transfer Network

Describe a typical day:

A typical day at the office would be analysing data from an online database and using my knowledge in physics to group it into categories to help the company determine which fields of research are the most prominent. I would contact academics across the UK to discuss their work either via email or by phone.

Why did you decide to do a placement?

I decided to do a placement because I wanted some work experience to enhance my CV.

Would you recommend doing a placement?

I would highly recommend doing a placement, as you will gain valuable experience of the working world. It will prepare you greatly for future employment.

How do you think doing a placement has benefited you for the future?

Doing this placement has benefitted me for the future as I now have experience in an office environment working with a professional attitude and alongside other professionals. It has also improved my communication skills greatly, which will be vital in todays working environment.

Henry Doyle - Data Analyst and Digital Marketing assistant, Brighton & Hove Albion FC

Describe a typical day:

Normally I maintain the main database for the marketing team which allows us to monitor the performance of the club in a variety of sections including commercial and ticketing. I also help advertise the club to as many external parties as possible and help the marketing team to prepare for any match days.

Why did you decide to do a placement?

I decided to do a placement as I always want to broaden my experience by working in a variety of situations and this placement represented an opportunity for me to do this. It is also another thing to add to my CV which will help me to gain future employment after university.

Would you recommend doing a placement?

I believe it is always a positive for anyone to do a placement as it is a real opportunity to meet new people, work in a new environment and also help to secure future employment so I would thoroughly recommend doing a placement if the opportunity arises.

How do you think doing a placement has benefited you for the future?

This placement has given me the experience of working in a new area of business and has helped me to narrow down what career path I wish to follow as well as being able to add the experience to my CV for any future opportunities that may appear.