'Jill Craigie: Film Pioneer' news, publications and screenings
Posted on behalf of: School of Media, Arts and Humanities
Last updated: Friday, 12 November 2021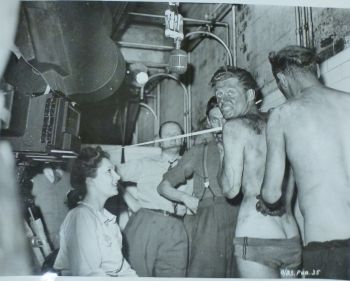 Jill Craigie: Film Pioneer is a four year research project funded by the Arts and Humanities Research Council, led by Lizzie Thynne with Sadie Wearing (LSE) and Yvonne Tasker (Leeds).
This month saw two of the project's major outputs come out, a documentary feature film, Independent Miss Craigie and a special issue of the Journal of British Cinema and Television, Vol 18, Issue 4, October, 2021: 'Jill Craigie and Women in British Film and Documentary Cultures 1930–55', co-edited by Research Fellow, Hollie Price, with contributions from all the team.
Jill Craigie (1911 – 99) was one of the first women to direct documentaries in the UK. Working outside the British Documentary Movement in the 1940s and early 50s, her films such as To Be Woman (1951), on equal pay, and Out of Chaos (1944), the first film about artists at work, featuring Henry Moore and Paul Nash.
Professor Lizzie Thynne said "Jill Craigie's fascinating film-making career has been largely eclipsed in public memory by her position as the wife of former Labour leader, Michael Foot. Although a handful of other women managed to work in creative roles in the sector (including the Grierson sisters, Kay Mander and Margaret Thomson) and had some support from the Documentary Movement, Craigie's films stand out because of their overtly feminist and socialist politics, their attempt to juggle activism and entertainment, and a degree of critical recognition on their release. We use Craigie as a case study to interrogate the historical frameworks and the canon of the British Documentary Movement which have undervalued women's contribution to the genre. We explore what Craigie's life history reveals about the social and industrial factors which constrain, and sometimes enable, women's involvement in film production".
Independent Miss Craigie uses its subject's own films extensively as well as other fiction and propaganda of the period to reflect on, and contextualize, her life and career. It draws on the director's unseen papers, along with her films, letters, and photographs to reveal her energetic struggles to get her radical films made and distributed. Dual narrative voices – from actual interviews and from a script performed by Hayley Atwell – evoke the split between Craigie's persona as a young, apparently confident film-maker and her later dismissal of her work. The film echoes Craigie's hybrid mix of drama and documentary and use of the first person to represent women's experiences and subjectivities, previously marginalized within the British Documentary Movement.
Several members of the School of Media, Arts and Humanities community made a fantastic contribution to the film including Mimi Haddon in her screen debut as the young Jill Craigie; James Longcake, ex Music BA who wrote the music; Nikoline Gjoertz, sound; Chiara Cannata, ex MA Film-making, production assistant; Mark Davies, graphics; Catalina Balan and Kieran Coyne, background artists and, of course, the usual wonderful technical support from the Technical Services team.
Director Lizzie Thynne and Research Fellow, Hollie Price will present Independent Miss Craigie at the Arts Cinema, Plymouth on 19 November at 6.30pm at its live cinema premiere. On 20 November, they will be at Phoenix, Exeter for another screening at 4pm chaired Professor Sally Faulkner (Exeter). They have been fortunate to win the support of the Independent Cinema Office to tour the film to selected UK cinemas in January/February as part of their 'Cinema of Ideas' series. See the Jill Craigie project website for further updates.
These screenings follow the many conferences and online events at which Lizzie and Hollie have presented in the last year. Lizzie continues "We had a warm welcome at our first live screening in South Wales supported by Gwynfi Miners Hall, where Craigie worked with a local cast to make her progressive feature, Blue Scar on the ongoing nationalization of the mines. Some residents in the village of Blaen/Abergywnfi still remember the film's shoot in 1947-8!"
Independent Miss Craigie will have initial distribution as part of a DVD on early women film-makers, from project partner, the BFI, entitled The Camera is Ours: Britain's Women Documentary Makers which will be launched at a screening/event at BFI Southbank in March.