Reviews of Keston Sutherland's 'Scherzos Benjyosos'
Posted on behalf of: School of Media, Arts and Humanities
Last updated: Thursday, 7 October 2021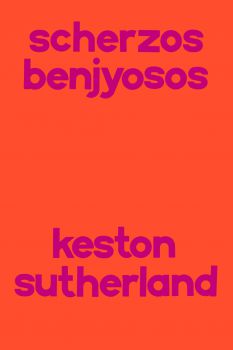 Keston Sutherland's book of poetry Scherzos Benjyosos has been reviewed in a number of publications since it was published last year by The Last Books.

Scherzos Benjyosos is described as: a set of four poems, scherzos in prosimetrical blocks, a comical, wild, and delirious sifting through the carnage of the financial crash, the dreamscapes of capitalist infancy, histories of sadism and persecution, the fetish bars of canonical literature, and the psychoanalysis of grass. The book also includes 'Sinking Feeling' from 2017, described by J.H. Prynne as 'breathtakingly lovely'.
In an interview with Sutherland for Bomb Magazine, Robert Crawford describes the book as "exceptional in its propulsive energies and pulsating music, as well as its combination of stylistic variation and imaginative invention. Often there is the sense of a dreamscape, an internal symbolic world, and of images bubbling up into a void, which is the stage of the mind".
The book has been reviewed by Jeremy Noel-Tod in the TLS, Mark Scroggins in Hyperallergic and John Wilkinson in Black Box Manifold.