Philosophy at Sussex is distinctive in a number of ways. Unlike most other universities, we cover both Anglo-American 'analytic' and Post-Kantian 'continental' philosophical traditions, and allow students at all levels to specialise in one tradition or to draw on both. We also cover both the history of philosophy and issues in contemporary philosophy. Our approach to teaching, our engagement with students, and the quality of research undertaken by our faculty is widely reflected in how the Philosophy Department at Sussex performs in all the major, independent ranking surveys.
What we offer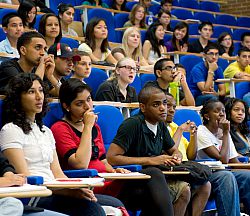 We offer a single-honours undergraduate Philosophy degree, and a select number of joint Philosophy degrees with a complementary subject. At postgraduate level, we offer MA courses in Philosophy, Literature and Philosophy, and Social and Political Thought. We also supervise PhD and MPhil Philosophy students over a wide range of topics. The Philosophy faculty are dedicated to and enthusiastic about teaching. We are approachable and, while insisting on the highest standards, concerned to make philosophy accessible, and to make studying it enjoyable.
Our philosophy undergraduates, postgraduates and tutors form a friendly and lively intellectual community. Undergraduate students are encouraged to attend the Department's popular Philosophy Society research seminars, where cutting-edge research is defended by invited speakers to a friendly but critical audience. The Department also runs an annual one-day conference for second and third years, at which they present their own research to their peers, and an annual one-day conference for sixth-formers and sixth-form Philosophy teachers.
We have strong intellectual links with those working elsewhere in the University: for instance, in cognitive science, intellectual history, literature, and in social and political thought—areas in which many of our faculty specialise.
Our graduates leave Sussex, not just with a thorough acquaintance with central areas of philosophical thought, but also with enhanced abilities to reflect critically, analyse texts, produce rationally compelling arguments, and think fast (and well) on the spot.
Applying to Sussex
We welcome applications from those who find philosophical questions fascinating and who wish to explore them further. A Philosophy 'A' level is not required for undergraduate entry.
For further information, please explore the Philosophy department website, view our current undergraduate online prospectus, or our postgraduate online prospectus, or come to visit and meet us on one of our Open Days.
For an overview of the University of Sussex, you can also take a virtual tour of the campus.