Ms Sharmila Nebhrajani OBE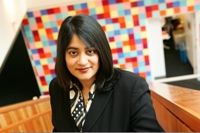 Appointed by Council (first appointed: 1 August 2011, re-appointed for a third term on 17 March 2017, end of tenure: 31 July 2020).
Sharmila Nebhrajani is the Chairman of the Human Tissue Authority, the body that regulates the use and storage of human tissue and organs, and also serves part time as Director of External Affairs at the Medical Research Council. She was previously Chief Executive of the Association of Medical Research Charities (AMRC) before which she had after a varied career spanning business, media, technology and health. She spent 12 years at the BBC latterly as Chief Operating Officer of BBC Future Media and Technology, managing the business functions of bbc.co.uk including the launch of the iPlayer and also served for two years as Executive Director of Finance and Performance for NHS Sussex.
She started her career in management consulting after graduating in Physiological Sciences from the University of Oxford, and in her business career she specialised in international strategy and corporate finance assignments for a range of private sector clients in media, telecoms and technology.
Sharmila has held a broad range of non-executive roles including deputy chair of the Human Fertilisation and Embryology Authority, the body that regulates embryo research and licences assisted reproduction clinics in the UK, and as a Charity Commissioner and in addition to her non-executive work she was a World Fellow at Yale University in 2007/08 with interests in both media policy and bio-ethics.
Her current non-executive appointments include Non-Executive Director for the Pension Protection Fund, the BMJ and NS&I as well as Trustee Director of pensions master trust Lifesight.
Sharmila was awarded the OBE in June 2014 for her services to medical research.
Declaration of interest:
Chairman - Human Tissue Authority
Non executive director - British Medical Journal Ltd
Trustee Director - Life Sight Ltd
Director of External Affairs - Medical Research Council
Non executive director - Pension Protection Fund
Non executive director - National Savings & Investment
Chief Executive - Wilton Park