Ms Rosemary Martin
Member appointed by Council (first appointed: 1 October 2017 for a first term until 31 July 2020).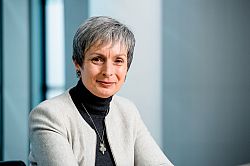 Rosemary Martin is currently Group General Counsel & Company Secretary at Vodafone Group Plc, the multi-national telecommunications company. She is responsible for the legal, compliance and secretariat functions and managing legal risk. Prior to joining Vodafone, Rosemary was Group General Counsel & Company Secretary at Reuters Group Plc and was briefly chief executive of an online legal information company. She began her career in a City law firm. In addition to an abiding interest in the challenges of managing legal risk across diverse jurisdictions, Rosemary is engaged in promoting innovation and diversity in the legal profession.
Rosemary's non-executive roles are as an Independent Non-Executive of EY, the international accounting firm, and as a trustee of Lloyd's Register Foundation which supports engineering-related research, training and education. Her previous non-executive roles included directorships at HSBC Bank Plc and the Legal Services Board and advisory board positions in the health and financial services sectors.
Rosemary graduated from Sussex University with a degree in Philosophy with Literature and has an MBA in Legal Practice.
Member of the following committee:
Audit and Risk Committee